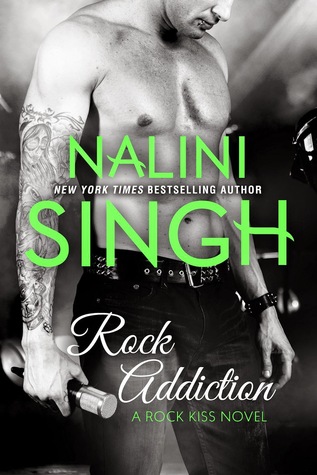 Als Nalini Singh auf ihrem Blog verkündete, dass sie spontan ein neues Buch veröffentlichen wird, war ich überrascht. Noch überraschter war ich, als ich das Genre dieses Buches sah: Contemporary Romance.
Ehhhh… ich bin kein großer Freund von Contemporary Romance, da es aber Nalini Singh ist, welche dieses Buch veröffentlicht hat, dachte ich: Was soll's? Ich lese das jetzt. Es muss gut sein.

Blurb: Molly Webster has always followed the rules. After an ugly scandal tore apart her childhood and made her the focus of the media's harsh spotlight, she vowed to live an ordinary life. No fame. No impropriety. No pain. Then she meets Zachary Fox, a tattooed bad boy rocker with a voice like whiskey and sin, and a touch that could become an addiction.
Fox promises scorching heat and dangerous pleasure, coaxing Molly to extend their one-night stand into a one-month fling. After that, he'll be gone forever, his life never again intersecting with her own. Sex and sin and sensual indulgence, all with an expiration date. No ties, no regrets. Too late, Molly realizes it isn't only her body that's become addicted to Fox, but her heart…
__________________________________________________________________________
Genre: New Adult, Contemporary Romance
Serie: Rock Kiss #1
Erscheinungsdatum: 09. September 2014
Cliffhanger: Nein
HEA/Happy End: Ja
Außerdem: irgendwie DNF
Bewertung: 2 Sterne ✶ ✶
review in english: here on goodreads
__________________________________________________________________________
Ich muss zugeben, dass ich bei 56% abgebrochen habe. Da beginnt der zweite Teil und ich dachte mir: will ich wirklich weiterlesen?

Ich war einfach nicht von der Geschichte gefesselt. Molly und Fox waren zwar ganz okay, allerdings verstehe ich nicht, warum Fox so an Molly interessiert ist. Wahrscheinlich ein Fall von Lust at first sight.
Die Interaktion zwischen den Bandmitglieder war meistens, wie es bei Nalini Singh Büchern üblich ist, lustig zu lesen.
Aber irgendwie war Rock Addiction nicht für mich, des Weiteren war ich von den ständigen Sexszenen genervt. Ich habe bei 12 Szenen aufgehört zu zählen. In der Psy/Changeling-Reihe und auch in der Guild Hunter-Reihe machen die Sexszenen Sinn. Sie passen in die Story rein. Ich weiß nicht wirklich, wie ich erklären soll, was ich meine. Kommen wir einfach zu meinem ursprünglichen Punkt zurück: Es waren zu viele.
Das Ende habe ich dann noch gelesen, da ich wissen wollte, wie das Happy End von Fox und Molly aussieht.
K-I-T-S-C-H-I-G!! Viel zu kitschig für meinen Geschmack.

Eine Sache hat mich Rock Addiction aber gelehrt: Stick with the genre you like! Auch wenn das Buch von deinem Lieblingsautoren geschrieben wurde.
Ich empfehle Rock Addiction jedem, der contemporary romance mag. Finger weg, wenn ihr eigentlich nur Fantasy mögt, aber Nalini Singh eine Chance geben wollt.
Rock Addiction ist zwar ein DNF, aber da ich die Sprache, wie bei jedem Nalini Singh Buch mochte, bekommt es nicht 1 Stern.
Außerdem bin ich mir sicher, dass ich es gemocht hätte, wenn ich das Genre mögen würde. Aber da das nicht der Fall ist…
2 von 5 Sternen
Hier könnt ihr es kaufen: Amazon DE