I thought I try writing a review in english. I'm pretty sure that there are a lot of mistakes, sue me 😉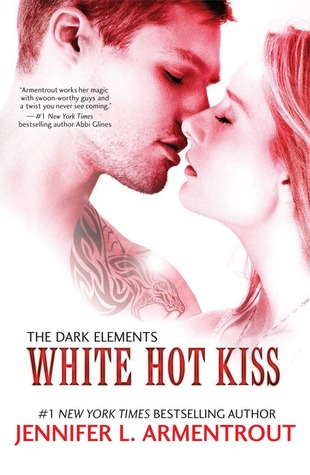 Blurb: Seventeen-year-old Layla just wants to be normal. But with a kiss that kills anything with a soul, she's anything but normal. Half demon, half gargoyle, Layla has abilities no one else possesses.
Raised among the Wardens—a race of gargoyles tasked with hunting demons and keeping humanity safe—Layla tries to fit in, but that means hiding her own dark side from those she loves the most. Especially Zayne, the swoon-worthy, incredibly gorgeous and completely off-limits Warden she's crushed on since forever.
Then she meets Roth—a tattooed, sinfully hot demon who claims to know all her secrets. Layla knows she should stay away, but she's not sure she wants to—especially when that whole no-kissing thing isn't an issue, considering Roth has no soul.
But when Layla discovers she's the reason for the violent demon uprising, trusting Roth could not only ruin her chances with Zayne…it could brand her a traitor to her family. Worse yet, it could become a one-way ticket to the end of the world.
__________________________________________________________________________
Genre: Young Adult, Fantasy
Series: Dark Elements #1
Date of Publication: 25. Februar 2014
German translation: Steinernde Schwingen
Cliffhanger: kind of … grr
HEA/Happy End: Nope 😦
Rating: 4 Stars ✶ ✶ ✶ ✶
__________________________________________________________________________
I have to confess I was afraid to read White Hot Kiss. Why? Because there were three ways this could end.
First the "what the heck did I just read"-way, second the "it was okay, but I wouldn't miss it"-way and third the "the book was awesome and I love everything"-way.
And I was afraid that I would fall in the first or second category.
So I've been putting it of and started reading some reviews about it. I read on the blog of Freya (soundofavoice) that she really loved the book and Nyze of everythingnyze is really torn about it and after that I was still putting it of, but YOU -my dearest readers- commanded me to finally read this book on my very first What's next-Post and now I read it.
I have to say : Thank you for forcing me to read it 🙂 I'm not entirely in the "the book was awesome and i love everything"-category, but I did like it. I read it through in one sitting (if you don't count dinner).
Well what can I say about the book? Maybe that I like the idea of gargoyles and think that it's really original. I love these creatures since The Hunchback of Notre Dame and it's sad that there are not more books with them as the main theme. JLA just has a thing for taking things that aren't popular at the moment and turning them into awesome stuff.
Besides loving the theme, I'm in love with Layla. She has her own mind, tries to appear normal and doesn't really know where she belongs because of being part Warden and part demon. She does make some mistakes that were really stupid, but come on, she's only seventeen. She's allowed to do stuff wrong.
She also has two love interest, Roth and Zayne.
I'm totally in love with Roth. He reminds me a lot of Daemon, but I don't care, because Roth is Roth and Daemon is Daemon. He has some pets/tattoos, for example a snake that he calls Bambi and a dragon named Thumper. (He is a total disney fan, even if he won't admit it 😉 .) He is a demon, but I think that he is really sweet and the conversations between him and Layla are funny to read. I'm definitely Team Roth.
The second love interest is Zayne, a Warden. Well, I don't like him. He just doesn't fit as a love interest and I really hope the Layla won't end up with him. Don't get me wrong, he's nice, but they should stay friend and nothing more.
Then there are the Warden and, with the exception of Zayne, they are all pretty judgemental and always telling Layla what she can and can't do, but they are Layla's family so she has to live with them. They are just so mean to her, I don't like them either, even if they are the supposely good guys.
Like always I love the way JLA writes. It's easy to read and sadly it was over way to quick. BTW the ending was mean, really mean and now I want book two.
Good thing I've been putting of reading it, so now I only have to wait til 28th october for book #2 🙂 yeay! (Yes, I know it comes out at the 21st, but there is a version that comes out at the 28th and only cost 34 cents(!)).
I recommend White Hot Kiss to everyone that loves the Lux-series and YA in general.
I rate the book with
4 out of 5 stars
Last but not least a Roth quote:
"For the love of all unholy things, why must you be so difficult? I apologize for calling you a prude. I'll even apologize for yesterday. I scared you. I threw your cell in a toilet. See, I was raised in Hell. You could say I'm socially awkward."
– page 90, kindle-position 1198
Buy it here:
Amazon DE | Amazon COM | Amazon UK