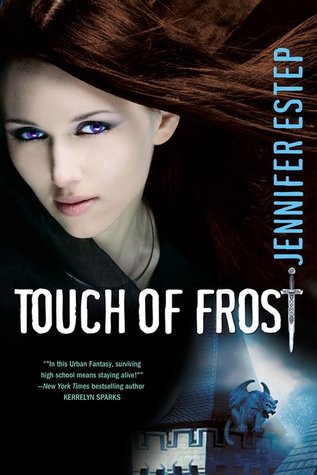 Blurb: My name is Gwen Frost, and I go to Mythos Academy; a school of myths, magic and warrior whiz kids, where even the lowliest geek knows how to chop off somebody's head with a sword and Logan Quinn, the hottest Spartan guy in school, also happens to be the deadliest. But lately, things have been weird, even for Mythos. First, mean girl Jasmine Ashton was murdered in the Library of Antiquities. Then, someone stole the Bowl of Tears, a magical artifact that can be used to bring about the second Chaos War. You know, death, destruction and lots of other bad, bad things. Freaky stuff like this goes on all the time at Mythos, but I'm determined to find out who killed Jasmine and why; especially since I should have been the one who died…
__________________________________________________________________________
Genre: Fantasy, YA
Serie: Mythos Academy #1
Erscheinungsdatum: 31.August 2011
Deutsche Übersetzung: Frostkuss
Cliffhanger: Nein
HEA/Happy End: Nein
Bewertung: 4,5 Sterne ✶ ✶ ✶ ✶ ✶
review in english:
__________________________________________________________________________
Ich habe Touch of Frost schon einmal vor 2 Jahren gelesen und es damals mit 3 Sternen auf Goodreads bewertet. Allerdings hatte ich mich diese Woche dazu entschieden, es noch einmal zu lesen, da ich mehrere "Waiting on" Wednesday-Beiträge gelesen habe, die das letzte Buch der Reihe beeinhalten.
Das war eine gute Entscheidung von mir, denn ich mochte Touch of Frost wirklich und ich weiß nicht genau, warum ich es damals so schlecht bewertet habe. Vielleicht war ich da noch nicht so im YA-Genre drin.
Also erstmal zur groben Handlung. Gwendolyn "Gwen" Frost geht auf die Mythos Academy, eine Schule, die auf den ersten Blick aussieht, als wäre sie für die Kinder der Superreichen. In Wirklichkeit gehen aber alle möglichen mythischen Gestalten dort zur Schule, zum Beispiel: Valküren, Spartaner, usw.
Gwen gehört nur zu den Gypsies, sie hat keine Superstärke, kann nicht kämpfen, eigentlich hat sie keine Ahnung, warum sie eigentlich an der Schule ist, denn die einzige Fähigkeit, die sie hat, ist die der Psychometry.
Das heißt, was oder wen immer sie anfasst, sie sieht Bilder und fühlt die dazugehörigen Gefühle der Vergangenheit.
Diese Fähigkeit finde ich irgendwie cool, ich hätte sie auch gerne, allerdings so, dass sie nur auf Gegenstände reagiert. Die arme Gwen kann nämlich so gut wie keine Menschen anfassen ohne Bilder zu sehen.
Ihre Mutter ist vor wenigen Monaten gestorben und seitdem geht sie eben auf die Mythos Academy. Sie arbeitet abends in der schuleigenen Bibliothek und findet dort die Leiche ihrer Mitschülerin Jasmine.
Keinen der Mitschüler stört das Jasmine ermordet wurde, also macht sich Gwen auf die Suche nach ihrem Mörder und alles kommt anders als erwartet.
Ich fand die Story jetzt beim erneuten Lesen viel besser als vor 2 Jahren.
Gwen finde ich richtig sympathisch, allerdings tut sie mir auch Leid. Sie hat am Anfang keine Freunde, niemand beachtet sie und wenn sie dann doch mal beachtet wird, dann nur weil Leute ihre Hilfe brauchen und sie wird nur "Gypsy-Girl" genannt.
Und natürlich muss in jedem YA-Roman ein Typ sein, der im einen Moment ein A**** ist und im anderen ihr Leben rettet und eigentlich lustig und nett ist.
Wer hätte das gedacht? 😉
Dieser Typ ist Logan, ein Spartaner und der Gigolo der Schule. Ich finde ihn toll.
Das Ende das Buchs fand ich, von der Auflösung des Mordes her, auch schon beim ersten Mal lesen, etwas vorhersehbar, aber auf die Idee das so zu lösen, muss man erst mal kommen 😉
Was die anderen Aspekte des Endes betrifft bin ich ja mal gespannt, wie sich das entwickelt. Das kann nur eine Katastrophe werden – und ich meine das auf positive und unterhaltsame Art.
Irgendwie hat mich das Buch so ein bisschen an Harry Potter erinnert und ich bin mir nicht so sicher, warum. Vielleicht wegen den verschiedenen Häusern in denen die Schüler wohnen. Das wären aber auch schon die Gemeinsamkeiten und dennoch hatte es so eine HP-Atmosphäre, zumindestens für mich :), was ja nichts schlimmes ist.
Wem würde ich das Buch empfehlen? Also zuerst einmal allen, die in irgendeiner Weise YA lesen und an verschiedenen Mythologien interessiert sind. Auch denke ich, dass Fan von Vampire Academy das Buch mögen könnten (keine Garantie ;)). Ich empfehle euch auf jeden Fall dieses Buch, ob ihr nun YA mögt oder nicht.
4.5 von 5 möglichen Sternen