Book provided by NetGalley in exchange for my honest opinion.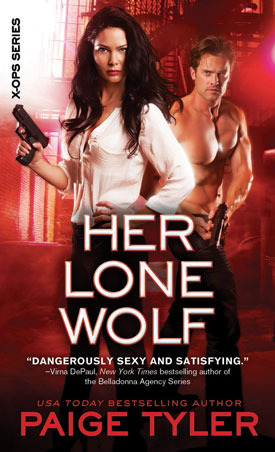 Synopsis: It took everything she had for FBI Special Agent Danica Beckett to walk away from the man she loved. But if she wants to save his life, she has to keep her distance. Now, with a killer on the loose and the stakes higher than ever before, the Department of Covert Ops is forcing these former lovers into an uneasy alliance…whether they like it or not.
Seeing her again is even worse.
The last thing Clayne Buchanan wants is to be shackled to the woman who broke his heart. She gets under his skin in a way no one ever has and makes him want things he has no right to anymore. All he has to do is suffer through this case and he can be free of her for good. But when Clayne finds out why Danica left in the first place, everything he's tried to bury comes roaring back—and there's no way this wolf shifter is going to take no for an answer this time.
__________________________________________________________________________
Genre: Paranormal Romance + Suspense
Series: X-Ops #2
Date of Publication: November 04, 2014
Cliffhanger: No
HEA/Happy End: Yes
Rating: 4 Stars ✶ ✶ ✶ ✶
__________________________________________________________________________
When I saw the synopsis for this book, I really hoped that it would be like Cynthia Eden's books who are set in the Other universe. I love shifters who are working for the goverment as cops or agents. I don't know why but I'm obsessed with this kind of theme. There are way too little like it.


Two years ago Danice left Clayne and the Department of Covert Ops out of the blue. She found a new job at the FBI, but a serial killer is on the loose who has the traits of a shifter. So she calls the DCO and Clayne is send to help her.
When Clayne was younger he had the choice between joining the DCO or going to jail for several years. He chose the DCO (be honest, you would have, too)

And he has been with the DCO for the last several years. Danice was the first partner on the job he could connect with and it got more. The became lovers, so when Danice just left him, he was angry and confused. I liked him and his display of feelings.
I don't get the change into a wolf though. Does he change fully into his wolf? Or do his features just get more wolfie? Can he fully change?

I liked Danica as well specially for the reason she left Clayne. After she left Clayne and the DCO, she went to the FBI. She is the lead agent in this case and she is shocked to see Clayne again. Even though she isn't happy to see Clayne, she does not doubt him when it comes to his abilities and the way he investigates.

The secondary characters were nice as well, but I think I would have liked them more if I read the first novel in the series. With only reading the second one, they were kind of expendable for me. Even though they played a bigger part in helping Clayne.
The crime part was a little bit obvious, but only because I expected a twist like this, but I still liked it.

The writing was pretty easy, no big and hard to understand words. The pages just flew by.
Also I don't think that it's necessary to read the first part of the series, but I still intended to.

One thing though: Before the actual beginning Clayne slept with Kendra. Kendra is a friend of Danica. Will Clayne ever tell Danica about this or will he just act like it never happened? I for my part would like to know this little detail  if I were Danica.
If you like Cynthia Eden (or J.D. Tyler) than you will like this book.
4 out of 5 stars
Buy it here:
Amazon DE | Amazon COM | Amazon UK