I decided to combine the Teaser Tuesday, hosted by MizB of Should Be Reading, with the First Chapter ~ First Paragraph Tuesday Intros, hosted by Bibliophile By the Sea.
---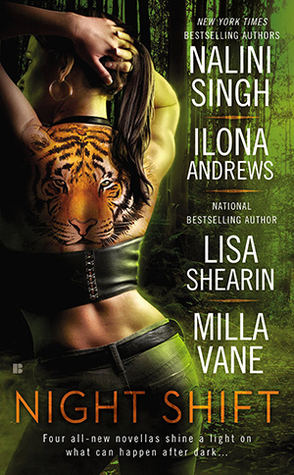 Today I featured the novella "Magic Steals" by Ilona Andrews which was published last week in "Night Shift". At first I wasn't sure if I should featured Nalini Singh's or Ilona Andrew's novella, but I loved Magic Steals a teeny tiny bit more. So here are the excerpts.

Opening paragraph (it's a pretty long one):
I looked at myself in the mirror. I wore thiny black panties and a tomato red satin garter belt with black lace-up inserts. The price sticker had described the color as scarlet, but really it was tomato red. The garter held up black fishnet stockings. A matching bra did its best to push up my small boobs. It didn't have much to work with. I wasn't just skinny. When my body was made, someone read the instructions wrong. I had tiny boobs, narrow hips, and thin chopstick legs with knoppy legs.
I looked ridiculous.

Teaser from page 98:
Jim wasn't just a badass. He was a badass who wrote a book for badasses on how to be a badder badass.
I so loved this novella. I want a full length novel about Dali and Jim. Does anyone know if one is progress?