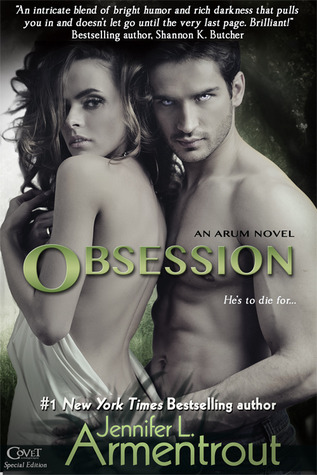 He's arrogant, domineering, and… To. Die. For.

Hunter is a ruthless killer. And the Department of Defense has him firmly in their grasp, which usually doesn't chafe too badly because he gets to kill bad guys. Most of the time he enjoys his job. That is, until he's saddled with something he's never had to do before: protect a human from his mortal enemy.

Serena Cross didn't believe her best friend when she claimed to have seen the son of a powerful senator turn into something… unnatural. Who would? But then she witnesses her friend's murder at the hands of what can only be an alien, thrusting her into a world that will kill to protect their secret.

Hunter stirs Serena's temper and her lust despite their differences. Soon he's doing the unthinkable—breaking the rules he's lived by, going against the government to keep Serena safe. But are the aliens and the government the biggest threats to Serena's life… or is it Hunter?
__________________________________________________________________________
Genre: Paranormal Romance
Series: Stand-Alone, but part of the Lux series
Date of Publication: May 31st, 2013
Cliffhanger: No
HEA/Happy End: Yes
Rating: 5 Stars ✶ ✶ ✶ ✶ ✶
__________________________________________________________________________
I could kiss Freya for telling me that this book exists and kick myself for not having looked it up before she told me.
Because guys, how awesome was this book?!
I loved the big, bad Arum named Hunter when he first showed up in the Lux series (don't worry, you don't have to read those. This is a stand-alone.) And I didn't knew he had an own book?! I'm so stupid.
I would like to have my own Hunter, because he totally acts like and is considered to be a bad guy, he really has his sweet sides. And even though he doesn't want to admit it till the end but he cares for Serena.
"Do you feel dizzy?"
"Earlier, but I'm just tired now. Why? Did you permanently damage me?"
A long moment passed. "Maybe."
And Serena… wow, I loved her. In the beginning she is scared, but come on, you would be too, if you just found out that aliens existed. After she overcame her fear she doesn't take shit from Hunter and is a total smartass. Hunter totally tries to boss her around, but no, not going to happen. Also I could totally connect with her (from the first page on!)
"You do as I say. It's that simple."
I [Serena] stared at him a moment and then burst into laughter.
He [Hunter] frowned. "I didn't say anything funny." "Oh, but you did."
Don't miss this book if you love or want to read the Lux series. If you're currently reading the Lux series, read Obsession after Origin ;).  But please note: This is no longer YA, this is now an adult novel.
Also writing this review makes me want to read this book again. Like ASAP. Bye.