~ Her Wild Hero by Paige Tyler ~
Genre: Paranormal Romance, Suspense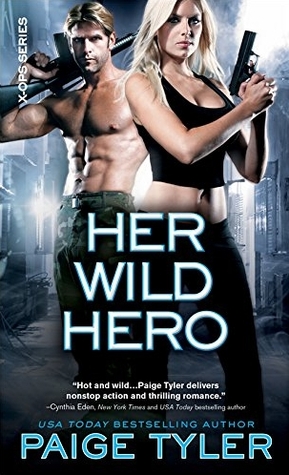 Pub Date: May 05th, 2015
Series: X-Ops #3
Source: NetGalley
Name: Kendra Carlsen
Rank: Trainer, Dept. of Covert Ops
Objective: Get out of the office and into the field

Name: Declan MacBride
Rank: Munitions Expert, Dept. of Covert Ops
Status: Bear Shifter
Objective: Protect Kendra at all costs

The steamy Costa Rican jungle brings out the bear in Declan MacBride when he and new operative Kendra Carlsen are ambushed. In the midst of relying on each other to survive, and fighting his explosive attraction to Kendra, this shifter is about to lose control…
When I started this book I honestly couldn't remember what happened in the last book nor who Declan was or if he even had been a part in the previous book (…I know, I'm the bad person).
I'm normally not like this, I swear, but I already knew that I wouldn't need any background knowledge about this series. Because the previous book was the second in series and I read it without ever reading the first one (still haven't done that, sorry
)
Well, anyway, this story is about Declan and Kendra (her I did remember!).
I loved them both. Kendra was this kick-ass heroine, who normally sits behind a desk. Just this once she is approved to go on a mission (she begged for it), which was categorized as "harmless". But everything didn't turn out as expected – typically –  and when a bad situation occured, like the group being attacked, she didn't went into shock. No, she grabbed a weapon and fought back.
Declan is a bear shifter and quite, reserved, nice and tall. Just like I picture a bear shifter – kind of. He is a former ranger and now an outside agent for the Department of Covert Ops (short: DCO). Also he doesn't like his shifter side very much because of something that happened in the past.
And even though I love those two, individually and as a couple, my secretly favourite was Tanner. I just love guys that are trying to redeem themselves for bad things they did in the past and he's one of those. Some people experimented on him and since then he has this dark side that he is now trying to control. Emphasis on trying. He let go of his control in one chapter on purpose – awesome! I see a book for him in the future, because he really needs a HEA. Like seriously. Make it happen.
So, let's move on to the action. Well, they were filled with action, duh! Ok, let's be serious for a second here: I liked the action scenes, I could totally picture them in my head. They were fast paced and fun to read.
The book itself dragged in a few scenes (because they were constantly trying to hide from the bad guys), but that wasn't enough to hinder me being hooked to the pages.
All in all, it was a fun, fast-paced book with likeable characters and I can't wait to read the next one.
Rating: 4 stars ✶ ✶ ✶ ✶