"Waiting On" Wednesday is a weekly event, hosted by Jill from Breaking The Spine, that spotlights upcoming releases that we are eagerly anticipating.
I haven't done a post like this for a long time, but I felt like writing one today. Also I will start the count anew
So this week I'm waiting for not only one, but two books 😉 I'm really uncertain with which I will start first next week, because that's a really tough choice
#1: A Sorceress Of His Own by Dianne Duvall
Publication Date: June 02
Synopsis:

From the New York Times bestselling author of the acclaimed Immortal Guardians series comes an enchanting new series full of romance, danger, and loyalty: The Gifted Ones

Since the day Lord Dillon earned his spurs, rumors of his savagery on the battlefield have preceded him into every room, stilling tongues and sparking fear. Weary of battle, he wishes only to find a woman he can wed who will approach him not with fear, but with the tenderness that has been absent from his life for so long. Yet only the wisewoman seems invariably at ease in his presence. Perhaps because she garners the same fear in others that he does himself.

For seven years, Alyssa has been by Lord Dillon's side, counseling him from the shadows, healing him with her hands, and staving off the worst of his loneliness while his fearsome reputation keeps others at bay. Blessed–or cursed–with gifts that label her a sorceress, she is forced to conceal her youth and the love she harbors for him beneath umbral robes that lead Dillon and his people to believe she is the same aged wisewoman who served his father.

All is revealed, however, and passions flare when an enemy threatens Dillon's life and Alyssa sacrifices everything to save him. When Dillon discovers that the wisewoman is far from elderly, he is instantly entranced. And, as he and Alyssa work together to defeat an enemy bent on destroying them both, Dillon will risk anything–even the wrath of his king–to be with her.
#2: Shards Of Hope by Nalini Singh
Publication Date: June 02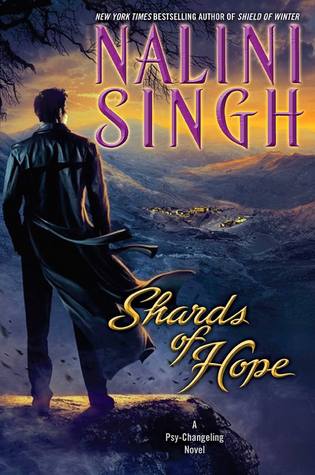 Synopsis:

The "smoldering heat, epic romance, and awesome action" of Nalini Singh's New York Times bestselling series continues as two Arrows find themselves caught in a chilling conspiracy that spans all three races…

Awakening wounded in a darkened cell, their psychic abilities blocked, Aden and Zaira know they must escape. But when the lethal soldiers break free from their mysterious prison, they find themselves in a harsh, inhospitable landscape far from civilization. Their only hope for survival is to make it to the hidden home of a predatory changeling pack that doesn't welcome outsiders.

And they must survive. A shadowy enemy has put a target on the back of the Arrow squad, an enemy that cannot be permitted to succeed in its deadly campaign. Aden will cross any line to keep his people safe for this new future, where even an assassin might have hope of a life beyond blood and death and pain. Zaira has no such hope. She knows she's too damaged to return from the abyss. Her driving goal is to protect Aden, protect the only person who has ever come back for her no matter what.

This time, even Aden's passionate determination may not be enough—because the emotionless chill of Silence existed for a reason. For the violent, and the insane, and the irreparably broken…like Zaira.
What book(s) are you waiting for? Leave your link in the comment section below 🙂