I decided to combine the Teaser Tuesday, hosted by MizB from A Daily Rhythm, with the First Chapter ~ First Paragraph Tuesday Intros, hosted by Bibliophile By the Sea.
---
Today I decided to feature Burn For Me by Ilona Andrews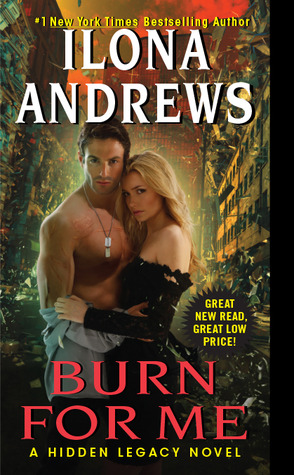 Opening:
Prologue

"I can't let you do this. I won't. Kelly, the man is insane."
Kelly Waller reached over and touched her husband's hand, looking for reassurance. He took his hand off the wheel and squeezed her fingers. Strange how intimate a touch can be, she thought. That touch, fueled by twenty years of love, had served as her rock in the nightmarish storm of the past forty-eight hours. Without it, she would have been screaming.
"He won't hurt me. We're family."
"You told me yourself he hates his family."
"I have to try," she said. "They'll kill our boy."
Teaser from 87%:
You know what? No: if he ever fell in love, it wouldn't be a great romantic devotion. It would be an exercise in frustration and lust, and at the end of it his significant other would strangle him.
What are you reading and loving this tuesday? Leave your link in the comment section below.