"Waiting On" Wednesday is a weekly event, hosted by Jill from Breaking The Spine, that spotlights upcoming releases that we are eagerly anticipating.
This week I'm again featuring two, because one is just not enough 😉
"The Stars Never Rise"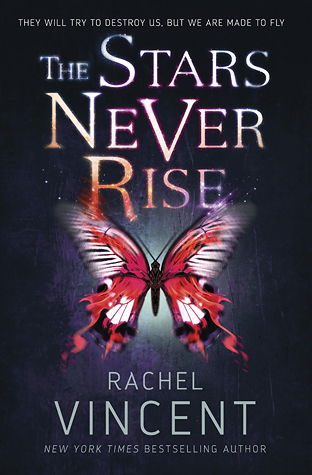 by Rachel Vincent
(Untitled Series #1)
Hardcover, 368 pages
June 09th by Delacorte Press
Synopsis:

Sixteen-year-old Nina Kane should be worrying about her immortal soul, but she's too busy trying to actually survive. Her town's population has been decimated by soul-consuming demons, and souls are in short supply. Watching over her younger sister, Mellie, and scraping together food and money are all that matters. The two of them are a family. They gave up on their deadbeat mom a long time ago.

When Nina discovers that Mellie is keeping a secret that threatens their very existence, she'll do anything to protect her. Because in New Temperance, sins are prosecuted as crimes by the brutal Church and its army of black-robed exorcists. And Mellie's sin has put her in serious trouble.

To keep them both alive, Nina will need to trust Finn, a fugitive with deep green eyes who has already saved her life once and who might just be an exorcist. But what kind of exorcist wears a hoodie?

Wanted by the Church and hunted by dark forces, Nina knows she can't survive on her own. She needs Finn and his group of rogue friends just as much as they need her.
I loved Rachel Vincent's Soul Screamer series, so I'm glad she's finally back with a YA series and I hope I will love this one as well. It sure sounds interesting.
Also I really like the cover art. Don't tell anyone: I love butterflies, but…. pssst 😉
"Deal With The Devil"
by Cynthia Eden
(Purgatory #4)
eBook, 212 pages
June 09th by Hocus Pocus Publishing, Inc.
Synopsis:

Eric Pate is used to making his own rules—as the director of the PARA Unit, he is the boss. Everyone rushes to obey his commands, and no one knows his secrets. No one ever gets too close to him. But then he meets her.

Ella Lancaster is tired of being a prisoner. She escaped one hell just to find herself in another, but Eric doesn't consider her containment with his agents as punishment. He actually thinks it is a form of protection. But Eric is so very wrong. Ella doesn't need protecting, not for anyone or anything.

But when the PARA Unit comes under attack, Ella and Eric both find themselves battling a supernatural beast that they never expected. Forced to join forces, to make a deal, Ella and Eric are soon fighting side-by-side, and their attraction for each other can't be contained or controlled. Hot. Wild. Consuming. Ella's deal with her devil is soon taking over her life.

And as Eric falls deeper and deeper under the mysterious Ella's spell, his legendary control begins to crack. The beast that he has kept chained so carefully inside rises to the surface. Unfortunately, when the devil loses his control…there is real hell to pay.
I love every book of Cynthia Eden and especially her paranormal ones. So this is a must-buy for me.
What book(s) are you waiting for this wednesday? Leave your link in the comment section below 🙂