"Waiting On" Wednesday is a weekly event, hosted by Jill from Breaking The Spine, that spotlights upcoming releases that we are eagerly anticipating.
Today I decided to feature a new book in a new series by Alexandra Ivy. It is about dragons and I can't remember ever reading about them in a book before (if we don't count Eragon, which I don't).
"Burned By Darkness"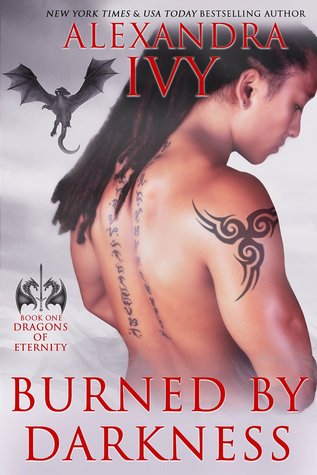 by Alexandra Ivy
(Dragon of Eternity #1)
eBook, 179 pages
Publication Date: June 30 by Deborah Raleigh, LLC
Synopsis:

The Dragons of Eternity were once creatures of myth and legend. Now they've returned to the world, prepared to claim what's rightfully theirs…

Tayla is desperate for a place to call home. After years on the run, the young imp impulsively buys a teahouse and is determined to build a new life. Unfortunately, she's barely opened the doors when she's tracked down by the dragon who purchased her from troll slave-traders. He demands she pay off her debts…in his harem.

Baine has devoted a quarter of a century to tracking down his beautiful concubine. And now that he has her in his grasp, he's not about to let her go. But it's soon apparent that he isn't the only demon hunting her. He must uncover her secrets or risk losing her forever.
What book(s) are you waiting for this Wednesday? You can leave your link in the comment section below, but no pressure 😉