I decided to combine the Teaser Tuesday, hosted by MizB from A Daily Rhythm, with the First Chapter ~ First Paragraph Tuesday Intros, hosted by Bibliophile By the Sea.
~~~~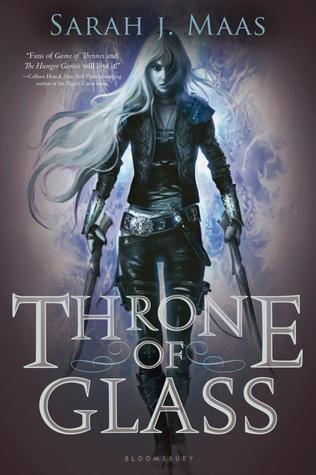 Opening:
After a year of slavery in the Salt Mines or Endovier, Celaena Sardothien was accustomed to being escorted everywhere in shackles and at sword-point. Most of the thousands of slaves in ENdovier received similar threatment – though an extra half-dozen guards always walked Celaena to and from the mines. That was expected by Adarlan's most notorious assassin. What she did not usually expect, however, was a hooded man in black at her side – as there was now.
When Celaena finally collapsed onto a bed after her meeting in the throne room, she couldn't fall asleep, despite the exhaustion in every inch of her body. After being roughly batherd by brutish servants, the wounds on her back throbbed and her face felt like it had been scrubbed to the bone.
After serving out a year of hard labor in the salt mines of Endovier for her crimes, 18-year-old assassin Celaena Sardothien is dragged before the Crown Prince. Prince Dorian offers her her freedom on one condition: she must act as his champion in a competition to find a new royal assassin.
Her opponents are men-thieves and assassins and warriors from across the empire, each sponsored by a member of the king's council. If she beats her opponents in a series of eliminations, she'll serve the kingdom for three years and then be granted her freedom. Celaena finds her training sessions with the captain of the guard, Westfall, challenging and exhilirating. But she's bored stiff by court life. Things get a little more interesting when the prince starts to show interest in her… but it's the gruff Captain Westfall who seems to understand her best.
Then one of the other contestants turns up dead… quickly followed by another. Can Celaena figure out who the killer is before she becomes a victim? As the young assassin investigates, her search leads her to discover a greater destiny than she could possibly have imagined.
Amazon US | Amazon DE
Leave the link to your opening and/or teaser down in the comment section
❤ ❤ ❤