~ Burn For Me by Ilona Andrews ~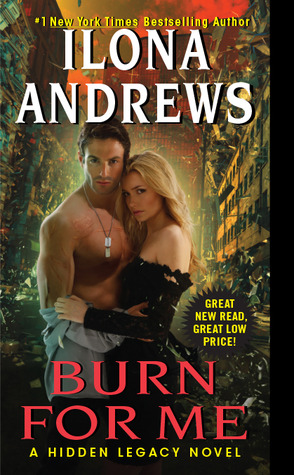 (Hidden Legacy #1)
Genre: Paranormal, Romance, Urban, Fantasy
Date Of Publication: October 28th 2014 by Avon
Source: Bought (Kindle, 400 pages)
Purchase: Amazon US | Amazon DE
Synopsis:

Nevada Baylor is faced with the most challenging case of her detective career—a suicide mission to bring in a suspect in a volatile case. Nevada isn't sure she has the chops. Her quarry is a Prime, the highest rank of magic user, who can set anyone and anything on fire.

Then she's kidnapped by Connor "Mad" Rogan—a darkly tempting billionaire with equally devastating powers. Torn between wanting to run or surrender to their overwhelming attraction, Nevada must join forces with Rogan to stay alive.

Rogan's after the same target, so he needs Nevada. But she's getting under his skin, making him care about someone other than himself for a change. And, as Rogan has learned, love can be as perilous as death, especially in the magic world.
~ My Review~
The books by Ilona Andrews and me – we have this thing going on. I like to call it the I-buy-it-but-avoid-it-because-I'm-afraid-I-won't-like-it thing. I don't know why I do this, because I always end up liking her books.
I had Burn For Me for roughly 9 months now… and the worst is this book isn't even the one by her that I had the longest. Nope, I also have Steel's Edge on my Kindle… It was the first book I got for my Kindle and I got him (yes, my Kindle is male, don't judge ;)) 2 years ago at Christmas. Still need to read that particuliar book…
But I'm drifting off-topic, so back to Burn For Me.
I loved this one. It was SOOOO GOOD. I think I like this even more than her Kate Daniels series.
Nevada was so much fun and I loved her character.
"You seem to be under the impression that I work for you and you can give me orders. Let me fix that." I hung up.
She cares deeply for her family and she runs a PI agency in which her family takes a part, too. She is not purely a strong character, she has some weak moments, too. She was so real.
Whatever willpower held me together broke. I leaned against the nearest vehicle and cried.
And Mad Rogan… damn *fans herself* He's a bad-ass. I wanted to throw some things at him from time to time, but I absolutely am in love with him.
"If you keep wiggling, things might get uncomfortable," he said into my ear, his voice like a caress. "I'm doing my best, but thinking about baseball only takes you so far."
He was just brilliant and funny. His real first name is Connor, but come on, Mad just sounds better if you want people to fear you and they do. He doesn't have a conscience and basically takes everything he wants. Except Nevada, because she can resist him.
"We should have sex."
I must've misheard. "I'm sorry, what?"
He glanced at me. His blue eyes were warm, as if heated from within. Wow.
"I said, we should have sex. You and me."
"No." Alarm made me sit up straighter.
"What do you mean, no?"
"I mean no. Has it been so long since you heard the word that you might have forgotten what it meant?" Okay, that was probably rude. I had to keep this as professional as possible. Calm, just very calm and firm.
"I'm attracted to you." His voice was confident and assured […] "I know you're attracted to me."
Just had to rub it in, did he?
He is now my new favourite male character by Ilona Andrews. So sorry, Curran.
I have so many good quotes from Mad Rogan. Here is another one of my favourites
"Yes, I'm a hermit. Mostly I brood," Mad Rogan said. "Also I'm very good at wallowing in self-pity. I spend my days steeped in melancholy, looking out of the window. Occasionally a single tear quietly rolls down my cheek."
Why do I have the feeling this is a reference to Twilight? Anyone had that feeling?
The sparks between Nevada and Rogan were off the chart. I loved their bantering and the chemistry was just right. I need these two together.
The antagonist isn't who you really think it is, just saying. I loved that twist in the epilogue, because I wasn't really expecting that.
If you ever read a book by Ilona Andrews, try this book as well. You will like it, I promise.
You want to know the only good thing I got from procastinating to read this. I don't have to wait that long for book 2, which will be out – according to the german amazon – October 15th…
2018…

WHHHHHHHHHHHHYYYYYY?????!!!!!!
Rating: 5 stars
This review is more quotes than review. I'm sorry. I got carried away.