~ One Night Of Scandal by Elle Kennedy ~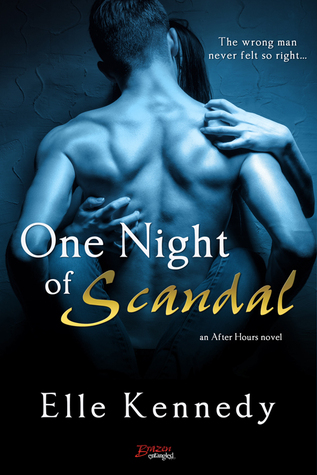 (After Hours #2)
Genre: Romance, Contemporary
Date of Publication: September 8th 2014 by Entangled: Brazen
Source: Bought
Synopsis:

A sexy category romance from Entangled's Brazen imprint…

The wrong man never felt so right…

Ex-fighter Reed Miller has been secretly lusting over his best friend's girl for months, but he refuses to jeopardize a friendship over a woman—especially one who doesn't like him all that much. Now that Darcy's on the market again, it's even more imperative to stick to his strict hands-off policy. But the sizzling attraction between them is too powerful to ignore, and once he's had a taste of her…all bets are off.

Darcy Grant is tired of walking the straight and narrow path. She's on the hunt for passion, and there's no denying Reed is just the man to give it to her. Although she has no interest in dating a bad boy, and certainly not her ex's best friend, it's impossible not to melt beneath Reed's skillful touch. Now it's just a matter of setting a few ground rules—and hoping her rule-breaking, sweet-talking bad boy agrees to follow them. But if she lets Reed into her bed, does she stand a chance of keeping him out of her heart?
~ My Review ~
I don't know what it is about these books, but I love them. They have me hooked till I reach the end and I still want more after that.
Loved both Darcy and Reed.
Darcy was formerly together with Reeds' best friend AJ, but they broke up and know she's single and discovers this awesome passion between herself and Reed. I really, really liked her.
But Reed was my favourite. I don't know what it is with me, but every guy in a book that is called Reed, Reid or Reyd I'm totally in love with. Well, anyway, Reed is awesome. He acts like a total player, but only so he can forget about his attraction towards Darcy and he is secretly a total nice guy with a bad guy streak. And he's good with children.
Reed Miller was a bad boy to the core. Apparently the guy possessed an anything-goes attitude when it came to sex. He also smoked cigarettes cursed like a sailor, and drove way too fast in that black Camaro of his.
And now on to the third man in this book, AJ. He is a total saint. His ex-girlfriend and his best friend hook up together and he gives them their blessings without even being angry. And in the end he even helps them to overcome a misunderstanding. I love that guy and hope to read his book pretty soon.
The chemistry between Reed and Darcy was smoking hot. I especially loved the moment they finally found together.
Try this, you won't need to read the first book (I think). If you love hot bad boys with a nice streak and passion that oozes is that the 3rd person sg. of ooze?! looks weird out of the pages, you need to at least try an extract.
Rating: 5 stars