~ Baby's Got Bite by Candace Havens ~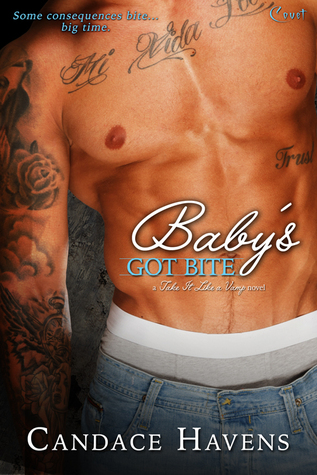 (Take It Like A Vamp #2)
Genre: Paranormal, Romance
Date of Publication: July 28th 2015 by Entangled Publishing: Covet
Source: Gift
                            
Synopsis:

Some consequences bite . . . big time.

Bennett Langdon has a firm no-relationships policy. Still, it doesn't stop her from hooking up with a super-sexy bad boy at her best friend's wedding. After all, it's only one night—what harm could it do? Ten weeks later, a pregnant Bennett has her answer…

Linc Monahan can't believe it. This wasn't supposed to happen. He's a werewolf, and shouldn't be able to father a child with a human. Now Linc has to find some way to tell Bennett that not only do werewolves exist, but she's about to have a baby with one.

But when word of their surprise conception gets out, the fur hits the fan. There are people who don't want this baby to be born—even if it means killing. Now Bennett and Linc aren't just fighting each other . . . they're fighting for their lives.
~ My Review ~
Thank you to Candace for gifting this book to me 🙂
We all probably know books where the hero of the book acts all lone-wolf. He isn't interested in a steady relationship, only sex. We all know such a main character, right?
Now let's change the gender and make the lone-wolf a lone-wolf…ress. You know what I mean, he's a she now. We actually have a female character that is only out for some one-night-stands. That was something you don't see everyday, because normally women in books are all like 'I need a man for forever', but not this chick Bennett. Nope, she is totally of the 'avoid any romantic and let's get right at it' type of girl and I liked that.
Not that he, Linc, is any different, just wanted to clarify that isn't that common for a woman in a book.
They are both of the 'don't let lovers too close' variety and they both are honest about it when they are about to hop in the sack. 😉
And then he knocks her up. Yep, she gets pregnant and all the fun begins… For me. I'm pretty sure Bennett and Linc freaked out for a nanosecond.
I don't know why but I really like books where the main character has to deal with a pregnancy.
This book was entertaining. It was really funny and I loved how our MCs were totally in the denial of their growing relationship and fondness for each other. Come on, we all know you will make a good couple, just admit it and get on with it. Don't be just friends with benefits, but more! Ok, now I've gone crazy and started to scream at the MCs. Someone has to put me away, best behind doors that will never again open. Also I'm totally off topic as I just noticed, but whatevs.
Any way, this book was major fun and I hope the next one will get out anytime soon. I never read the first book in the series by the way. So it can totally be read as a stand-alone 🙂
Rating: 4 stars