~ Too Hard To Handle by Julie Ann Walker ~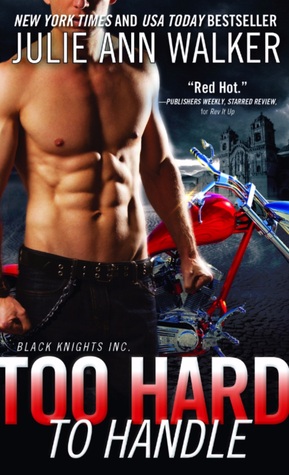 (Black Knights Inc. #8)
Genre: Suspense, Romance
Date of Publication: September 1st 2015 by Sourcebooks Casablanca
Source: NetGalley (352 pages)
Synopsis:
New York Times and USA Today bestselling author Julie Ann Walker continues her red-hot Black Knights Inc. series in rough-and-tumble Peru

"The Man" is back
Dan "The Man" Currington is back in fighting form with a mission that takes him four thousand miles south of BKI headquarters, high in the Andes Mountains of Peru. He's hot on the trail of a rogue CIA agent selling classified government secrets to the highest bidder, when Penni DePaul arrives on the scene. Suddenly the stakes are higher, and keeping Penni safe becomes Dan's number one priority.

And this time she's ready
A lot has changed since former Secret Service Agent Penni DePaul last saw Dan. Now a civilian, she's excited about what the future might hold. But before she can grab onto that future with both hands, she has to tie up some loose ends-namely, Dan Currington, the man she just can't forget. And a secret that's going to change both their lives-if they can stay alive, that is.
~ My Review ~
Let me start this review with saying that you should probably read the books in the right order, but you don't have to.
I didn't. I started the series with the Hell For Leather, which is the sixth book in the series, then I read the second book In Rides Trouble, followed by the first book Hell on Wheels and finally I read Too Hard To Handle, which is the eighth book and the one I'm writing this review about. Why I read the second before the first even though I had both books at home, I still don't know, but whatever. Haha.
Reading the books of the BKI series in a random order totally works if you don't care for little spoilers, like "Who will end up together" and "how will their relationship develop in the future." The actual books won't be spoiled – at least I didn't noticed it.
Moving on.
The one thing that makes a romantic suspense book good in my eyes is bickering. Funny, laughing out loud bickering and the whole series has it. I love it when the guys really get into it, so hilarious. Too Hard To Handle had a lot of funny bickering.
The other thing a romantic suspense has to have is chemistry or tension between the two main characters, in this case Dan and Penni. There was a lot of that going on as well, so I have nothing to complain about.
Then one thing I totally loved about this book and the series in general is the little appearances of the previous characters and couples. I always hate when authors are like "that couple got their HEA, so I will never feature them again". Julie Ann Walker does not do that. You will see a lot of previous and future couples. At least I hope they are going to get together … someday.
What I also really liked about Too Hard To Handle was how Julie Ann Walker used Harry Potter references. I personally only watches the movies – I know, I know, throw tomatoes at me, I deserve it – but I found that really funny.
If you loved the previous books in the BKI series, you can pick this up without feeling like it will disappoint you. It won't. It's a fun ride with hilarious characters. I can't wait to read the next one.
Rating: 4,5 stars