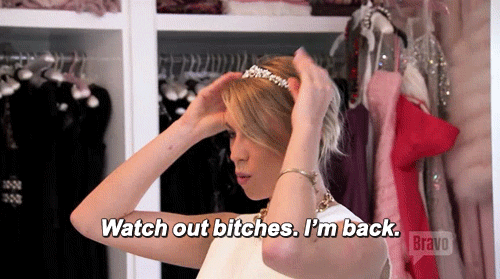 WHHHHAAAAAAATTTT?
What do you mean you didn't even noticed I was gone?! Do you hate me so much? 😦 And I thought we are friends.
Ok, in all seriousness. I'm back!! 🙂 After 6 weeks of my stupid internship I finally have some time to blog again. GOODBYE INTERNSHIP. I'm going to miss you… NOT!!
I totally missed you all, guys! And I totally neglected to visit and comment (even liking) on your blogs. I'm so sorry. My life was just really busy and I was dead to the world after work. It was really exhausting. And I'm glad to be back in school for tomorrow on.
The only thing I did for the last six weeks here on my blog were the authors interviews (which I like and there will be a lot more in the future), because they are pretty quick to schedule up ahead. And of course, some scheduled review.
But I miss, miss, miss my typical tuesday posts, like the TT & TTT. Those will be back next week or the one after. I promise.
Also I probably will be back with some Book Tours and Release Blasts (not that any of you read them, but I still like being a part of them 😉 )
And that's it for this post… I guess. I just wanted to let you know that I'm still live and am going to be more (probably…maybe…naah) active again.
Also here's what I'm going to do today: nothing! (haha, I wish, I have so many things too catch up to, like laundry … )
Till next time. Enjoy your sunday 😀