~ Sinner's Steel by Sarah Castille ~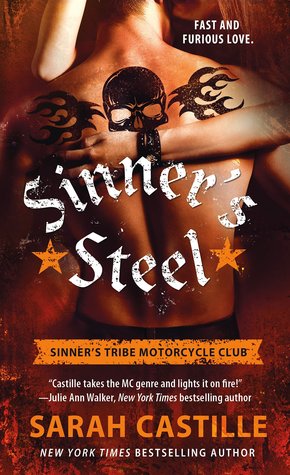 (Sinner's Tribe Motorcycle Club #3)
Genre: MC, Romance
Date of Publication: October 6th 2015 by St. Martin's Paperbacks
Source: NetGalley
Synopsis:

HE'S HELL ON WHEELS.
Tall, dark, and dangerously handsome, Zane "Tracker" Colter is the strong, silent type of tattooed muscle biker who drives women wild. But as a master of strategy for the outlaw MC club, Sinner's Tribe, he doesn't have time to play around with groupies and biker chicks-especially when he can't stop thinking about Evie, the girl who got away…

SHE'S PLAYING WITH FIRE.
Evie's been in love with Zane ever since they were children-until he broke her heart and disappeared. Now he's back in her life, bigger and badder than ever. Zane is stunned by how beautiful and confident Evie's become, using her artistic talent to customize motorcycles. He wants her so bad, he'd ride through fire to win her back. There's one problem: Evie is dating his deadliest rival-the leader of the Black Jacks-and if Evie and Zane hook up, there'll be hell to pay…
~ My Review ~
Sinner's Steel is actually the first motorcycle club romance I've ever read. I might have read books featuring guys that work and are part of a motorcycle gang, but those are secretly black ops member, working for the government. So I really didn't knew what I signed up for when I requested Sinner's Steel. But I liked the synopsis, so I requested anyway.
But I didn't like what I found. The biggest reason I didn't like this book were the characters. I disliked everyone but Evie and Connie, Evie's best friend. I love and am used to books where people that belong to one group act like a big family. But in this book and the motorcycle clubs that wasn't the case. I get that the leader has to uphold a certain reputation, but threatening your best friend of ages because he was a little disrespectful. BIG NO GO for me.
Also though I have nothing against violence in books, what's up with manhandling Evie. Everyone is leaving bruises on her – and they are proud of that fact…. poor Evie.
They writing style was nice though. Also I think a lot of people will love this book if they love this genre, but I just didn't. Sorry.
I think I will stay clear of this genre. But hey, you can't say I don't try out new stuff.
DNF at 32%