1. Tell us something about your latest book. Is it your debut? What genre does it belong to? + 2. Is your book part of a series or can it be read as a stand-alone?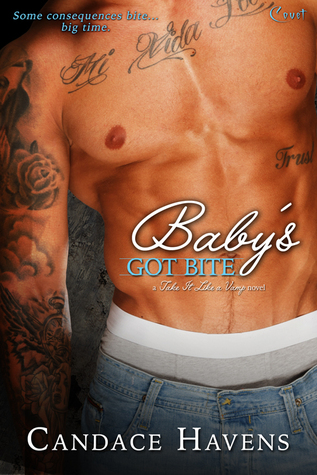 I'm going to answer questions one and two together. That's how I roll. "Baby's Got Bite" is part of a series, but you don't have to read the first book to understand what's going on. Each book stands alone. And this one is what happens after a wedding "hookup." (Smile) Linc and Bennett are great with the banter and super hot together. It's a funny book and super romantic. So if you're in the mood for that sort of thing…
3. Which character of your book was the hardest to write?
The character that was hardest to write was Linc. It's funny, he's the best friend in the first book. He's laid back and kind of protective and intense at the same time. It was hard finding that balance. When he loves, he loves hard (pardon the pun). And that makes him kind of bossy. But that's also what I love most about him.
4. If you're not writing, what do you love to do?
When I'm not writing, I'm editing. I'm an editorial director at Entangled Publishing and I run six of the lines Embrace (new adult), Select Contemporary (Single Title), Select Otherworld (Single Title), Covet (Paranormal romance, category) and Indulgence (cont. romance, category). I'm also a TV and Film critic and radio personality. I still write three or four columns a week about television, and talk about movies on the radio. I don't sleep a lot.
5. Did anyone inspire you to start writing or did you always knew you just had to write?
Did anyone inspire me to write? It's just something I've always done. I've been a journalist for a really long time. That was my dad's idea. I'd been a dancer and hurt my back in college. Dad mentioned over dinner one night that I'd always written for school papers and magazines, and that I should check out journalism. My friend Paulette suggested I write romance novels. So I came home from L.A. one summer and wrote one. I'm inspired by everything. Music, art, television, film, conversations I overhear.
6. Any advice/tips for newbies?
My advice for newbies is to hone your craft. Take classes and write every day. You probably aren't going to be the world's best right out of the box. It takes practice, education and work to be a good writer. Don't let anyone tell you that you can't be a writer. You can. Finish what you start. It's easy to give up. It's much harder to see a project through.
7. Are you already writing a new book? Can you tell us a little bit about it?
I am always writing the next book. (Smile) I've got a single title for Samhain I'm finishing up, that is tentatively called Branded. Then I have the second in a new series for Harlequin to finish. That first book comes out in February 2016. I think, in all, I have five books out next year? Maybe six? A lot of writing ahead. Oh, and as Mackenzie McGuire, we'll have the second in that series, as well.
8. A word that you use way too often? (Mine are "quite" and "probably")
Truth? My words that I use to often change with every book, and with every feature story. But I seem to love the word "thing." I use it a lot.
9. Last but not least: What's your favourite type of candy, if you don't mind me asking?
My favorite kind of candy? That's like choosing a favorite child. I'm fond of milk chocolate in just about every form. Oh, and Nerds. I don't know what it is about Nerds, but I just love them.
*Emalie casually inserts review to Baby's Got Bite >>>>*
Author Bio:
Bestselling author Candace Havens has written six novels for Berkley including, Charmed & Dangerous, Charmed & Ready, Charmed & Deadly, Like A Charm, The Demon King and I and Dragons Prefer Blondes.
She has also written four books for Harlequin's Blaze line, including Take Me If You Dare, She Who Dares, Wins, Truth and Dare, and The Model Marine. Candace's work is also featured in Spirited, an anthology, and all its proceeds go to help literacy. Take It Like A Vamp, her latest work, launched a line of light paranormal romances for Entangled Publishing, called Covet.
Her books have received nominations for the RITA's, Holt Medallion, Reader's Choice, and Write Touch Reader Awards. She is the author of the biography Joss Whedon: The Genius Behind Buffy and a contributor to several anthologies.
She is also one of the nation's leading entertainment journalists and has interviewed countless celebrities including Tom Hanks, Nicolas Cage, Tom Cruise, George Clooney and many more. Her entertainment columns can be read in more than 600 newspapers across the country.
Candace also runs a free online writing workshop for more than 1800 writers, and teaches comprehensive writing class. She does film reviews with the Dorsey Gang on New Country 96.3, and is the President of the Television Critics Association.
Visit Candace's: Website | Twitter | Goodreads Page