~ Dark Alpha's Claim by Donna Grant ~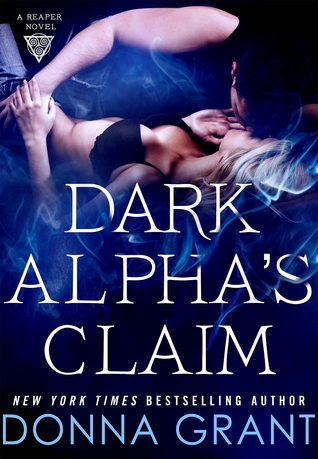 (Reaper #1)
Genre: Paranormal, Romance
Date of Publication: November 17th 2015 by St. Martin's Paperbacks
Source: NetGalley
Synopsis:

There is no escaping a Reaper. I am an elite assassin, part of a brotherhood that only answers to Death. And when Death says your time is up, I am coming for you…

My whole existence is based on taking what Death wants. Born to eliminate Fae guilty of unforgivable crimes, my reckless, wild nature makes me the perfect assassin to carry out Death's bidding. I've seen more sinister and violent dealings than anyone could ever imagine. But it was the sight of her face that stopped me cold. I've never wanted a woman-never mind a human-so badly; never felt my heart, hardened by death, burn brighter and hotter until it burst into flames. She is everything I desire. The kind of woman that compels you to stake your claim on her, to let the world know that she's yours. A Reaper saving her life will only attract danger, but I vow to protect her at all costs from the Fae that hunt her, and keep safe the woman who has claimed me, body and soul.
~ My Review ~
~ Book provided by NetGalley in exchange for my honest opinion
Dark Alpha's Claim is  the beginning of a new spin-off series of Donna Grant's Dragon King series and while I found it ridiculous how fast Baylon and Jordyn fell in love and I'm normally not really into fae, this story was entertaining to read. Also though it's a spin-off series I'm pretty sure you can read it without ever reading the Dragon King series. I personally only read one book from that series and I had no problems understanding Dark Alpha's Claim.
The two main characters, Baylon and Jordyn, were easy to like as well as the other Reapers. Baylon is the cool, protective reaper and Jordyn is the damsel-in-distress, who isn't afraid to get her hands dirty. Also she liked books. And any character that loves book is my kind of character.
Regarding the other reapers I'm especially curious about Eoghan and hope he get his own story soon, but I want everyone to have his story. They deserve it.
The one thing I am kind of disappointed about is that the book was soo short. I think a full lengthed book would have worked as good as it did in this length. 😉 Also the cover… not my favourite cover
Anyway, Dark Alpha's Claim will definitely not be the last book of the series I'm going to read.
Rating: 4 stars