I found this survey over on the blog of Jamie @ Perpetual Page-Turner and decided I want to give it a try as well. If you want to join, too, check it out here.
~ The Stats ~
Number Of Books You Read: 190 books
Number of Re-Reads: Too many. I don't count them though, so they are not added to the number above.
Genre You Read The Most From: Paranormal Romance
~ Best In Books ~
1. Best Book You Read In 2015?
Totally cheating, because I'm going to name one book for each of my favourite genres.
Paranormal Romance: Shadows Strike by Dianne Duvall
New Adult: Obsession by Jennifer L. Armentrout
Young Adult: Cold Burn Of Magic by Jennifer Estep

Contemporary: Beneath These Scars by Meghan March

Urban Fantasy: Burn For Me by Ilona Andrews
2. Book You Were Excited About & Thought You Were Going To Love More But Didn't?
I was totally disappointed by Wicked by Jennifer L. Armentrout. I wanted to love it, but sadly it ended up being only a two star book.
 3. Most surprising (in a good way or bad way) book you read?  
Loved, loved, loved Pucked by Helena Hunting. Two reasons why it was surprising. First: I read Fucked and thought this was only pure erotica, for which I was so not down. Second: this was freaking hilarous and I would never have thought that.
 4. Book You "Pushed" The Most People To Read (And They Did)?

I totally pushed Throne Of Glass by Sarah J. Maas onto a friend. She loved it. You are very welcome 😉
 5. Best series you started in 2015? Best Sequel of 2015? Best Series Ender of 2015?

Best Series I started: Beneath Series by Meghan March
Best Sequel: Game Changer by Melissa Cutler
Best Series Ender: Every Last Breath by Jennifer L. Armentrout
 6. Favorite new author you discovered in 2015?
This has to be a tie between Helena Hunting and Meghan March.
7. Best book from a genre you don't typically read/was out of your comfort zone?

I'm not really fond of dystopians, but I loved Divergent by Veronica Roth. 😉
 8. Most action-packed/thrilling/unputdownable book of the year?

Did you see the number of books I've read in the beginning of this post? How am I supposed to just pick ONE unputdownable book? Impossible.
*randomly pick on of her 5-star-books of 2015* The Deal by Elle Kennedy
 9. Book You Read In 2015 That You Are Most Likely To Re-Read Next Year?
Dirty English by Ilsa Madden-Mills. I never finished my review and also: Why the heck did I only rate this book 4 stars? I don't remember. So I am totally going to re-read it.
10. Favorite cover of a book you read in 2015?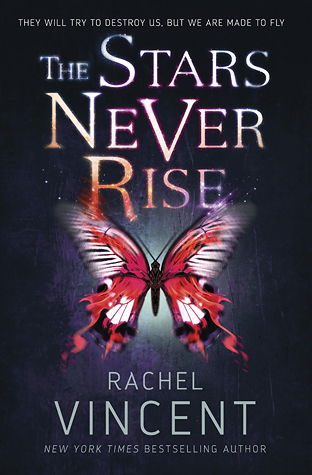 I am a sucker for butterflies, ok? So this totally wins.
11. Most memorable character of 2015?

Violet Hall from Pucked by Helena Hunting. If you read the book, you know why I chose her. Basically because she is crazy, hilarious, neurotic and so down-to-earth.
12. Most beautifully written book read in 2015?
I really don't care how a book is written, as long as I can read it without any problems.
13. Most Thought-Provoking/ Life-Changing Book of 2015?
Game Changer by Melissa Cutler, because it deals with cancer and missing limbs.
 14. Book you can't believe you waited UNTIL 2015 to finally read? 
Once again I have to name Burn For Me by Ilona Andrews. I can't believe I didn't read it sooner, but at the same time I'm glad, because book two won't come out till 2017.
 15. Favorite Passage/Quote From A Book You Read In 2015?
*cheating, doesn't even feel sorry about it* Some of the quotes beneath are from books I read the first time this year and others are from re-reads. I made this list somewhere in September/October I think.
~ click to enlargen the quotes
16.Shortest & Longest Book You Read In 2015?
~ courtesy of Goodreads
 17. Book That Shocked You The Most

The One by Kiera Cass.
~ Spoiler ~
I actually liked Celeste! Why did she had to die?
~ Spoiler End ~
18. OTP OF THE YEAR (you will go down with this ship!)

Yet again I will name Burn For Me by Ilona Andrews with Nevada and Mad. These two belong together!
19. Favorite Non-Romantic Relationship Of The Year
Skulduggery Pleasant and Stephanie from the Skulduggery Pleasant books by Derek Landy 😉
20. Favorite Book You Read in 2015 From An Author You've Read Previously
Always these hard questions…. Who haven't I mentioned yet? Blood Wolf Dawning & Wild Wolf Claiming by Rhyannon Byrd
21. Best Book You Read In 2015 That You Read Based SOLELY On A Recommendation From Somebody Else/Peer Pressure:
Throne Of Glass by Sarah J. Maas. Thank you, people on Twitter, who wouldn't stop talking about how good this series is… now I have to get Crown Of Midnight and all because of you ;D
22. Newest fictional crush from a book you read in 2015?
Lucas "Fucking" Titan. He's such an ass, but at the same time I have such a crush on him.
23. Best 2015 debut you read?
Would you believe me when I tell you that I haven't read a (good) debut this year. I read … like three and non of them where good…
24. Best Worldbuilding/Most Vivid Setting You Read This Year?
Probably Throne Of Glass?
25. Book That Put A Smile On Your Face/Was The Most FUN To Read?
Once again Pucked by Helena Hunting and The Deal by Elle Kennedy
26. Book That Made You Cry Or Nearly Cry in 2015?
One of the books from the Beneath series by Meghan March had a scene with a dog, I think. I can't stand dog scenes, always make me cry.
27. Hidden Gem Of The Year?
Very Bad Things by Ilsa Madden-Mills
28. Book That Crushed Your Soul?
The Dirt On Ninth Grave by Darynda Jones. Charley with amnesia was so heartbreaking.
29. Most Unique Book You Read In 2015?
Definitely A Darker Shade Of Magic by V.E. Schwab. Never read anything about parallel worlds, where one individual only could travel between them.
30. Book That Made You The Most Mad (doesn't necessarily mean you didn't like it)?
Burn For Me by Ilona Andrews is the book that comes to mind. Not really the book made me mad, but the fact that the release date of the sequel gets pushed back again and again.
~ Looking Ahead ~
1. One Book You Didn't Get To In 2015 But Will Be Your Number 1 Priority in 2016?
A bunch of books, but most likely Magic Breaks by Ilona Andrews. This has been laying on my nightstand soooo long.
2. Book You Are Most Anticipating For 2016 (non-debut)?
Pucked Over by Helena Hunting. Not long from now and it's finally there!
3. 2016 Debut You Are Most Anticipating?
I have no idea. I don't keep up with debuts. Something you want me to read?
4. Series Ending/A Sequel You Are Most Anticipating in 2016?
Into The Fire by Jeaniene Frost. I want to know how it finally ends! Took long enough!
5. One Thing You Hope To Accomplish Or Do In Your Reading/Blogging Life In 2016?
Read all the paperbacks I bought when I was in London… in July 2015. I so far have only read 5? Maybe? Out of 22…
6. A 2016 Release You've Already Read & Recommend To Everyone
The Dirt On Ninth Grave, but only if you read the other eight books before that 😉 otherwise you will be totally lost.
---
Did you read any of the books I've mentioned? Did you like them?
Did a survey yourself? If yes, link please 🙂 I want to read your answers.