~ Firsts by Laurie Elizabeth Flynn ~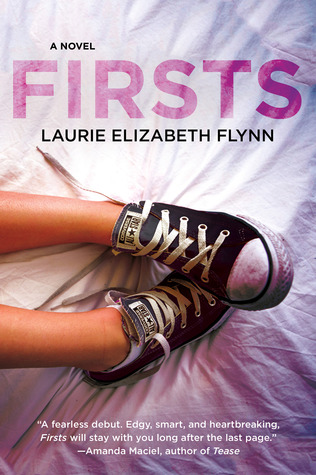 Genre: Contemporary, Young Adult
Date of Publication: January 5th 2016 by St. Martin's Griffin
Source: NetGalley
Synopsis:

Seventeen-year-old Mercedes Ayres has an open-door policy when it comes to her bedroom, but only if the guy fulfills a specific criteria: he has to be a virgin. Mercedes lets the boys get their awkward, fumbling first times over with, and all she asks in return is that they give their girlfriends the perfect first time- the kind Mercedes never had herself.

Keeping what goes on in her bedroom a secret has been easy- so far. Her absentee mother isn't home nearly enough to know about Mercedes' extracurricular activities, and her uber-religious best friend, Angela, won't even say the word "sex" until she gets married. But Mercedes doesn't bank on Angela's boyfriend finding out about her services and wanting a turn- or on Zach, who likes her for who she is instead of what she can do in bed.

When Mercedes' perfect system falls apart, she has to find a way to salvage her reputation and figure out where her heart really belongs in the process. Funny, smart, and true-to-life, FIRSTS is a one-of-a-kind young adult novel about growing up.
~ My Review ~
Mercy's life was perfect, if you don't count that her mom doesn't care about her, that her best friend is against sex before marriage and that she is the girl every boy turns to when he wants to get over his first time. Her life was perfect, till the system she developed for herself starts to fall apart.
Well, this was a different kind of book. I read a lot of books with sex scenes, but I actually never have read a book that had sex as a theme, in a young adult way.
And while I liked the general idea of the book, I still couldn't find myself enjoying the book for following reasons.
First, I was kind of annoyed by all the repetitions. I already got the first time that she first intended to stop at 5 "lessons" – yes, lessons, she teaches the guys stuff -, then upped her number to 10, which was supposed to be her last lesson. I really didn't need to read that little tidbit of information every 5 pages in the beginning.
Second, I pretty fast lost interest in this book when Faye had her first appearance. I don't know what it was about that girl, but she killed the whole book even more for me.
Third, this whole thing with Charlie, Mercy's best friends boyfriend, was just totally not to my liking. I know, I know, the synopsis kind of said that that something else would happen between them in one or another way, but I had hope it wouldn't turn out that way. I hate cheating and even when it's just having feelings for someone else, without even touching the wrong person. This was also a big factor that made me not like this book.
The main reason why I couldn't like this book much though was…. Mercy. I get she's in a difficult situation and stuff, but she was kind of … well, annoying. She says she does this all for the girlfriends of the guys she sleeps with, but I didn't see it that way and I didn't like Mercy much for it.
Also the synopsis said this book was supposed to be funny…? I don't see it.
The one good thing about this book was the writing style. Really easy to read and understand.
DNF at 50%.