~ The Deal by Elle Kennedy ~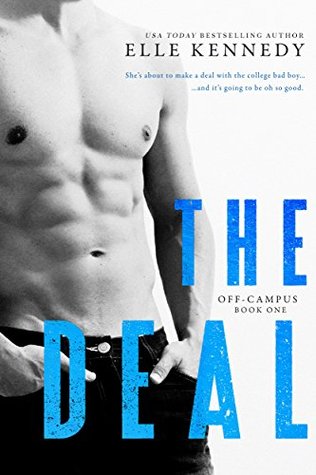 (Off-Campus #1)
Genre: Contemporary, New Adult
Date of Publication: February 24th 2015 by Elle Kennedy
Source: Bought
Synopsis:

She's about to make a deal with the college bad boy…

Hannah Wells has finally found someone who turns her on. But while she might be confident in every other area of her life, she's carting around a full set of baggage when it comes to sex and seduction. If she wants to get her crush's attention, she'll have to step out of her comfort zone and make him take notice…even if it means tutoring the annoying, childish, cocky captain of the hockey team in exchange for a pretend date.

…and it's going to be oh so good.

All Garrett Graham has ever wanted is to play professional hockey after graduation, but his plummeting GPA is threatening everything he's worked so hard for. If helping a sarcastic brunette make another guy jealous will help him secure his position on the team, he's all for it. But when one unexpected kiss leads to the wildest sex of both their lives, it doesn't take long for Garrett to realize that pretend isn't going to cut it. Now he just has to convince Hannah that the man she wants looks a lot like him.
~ My Review ~
Before I read The Deal I was sure my favourite book of the year 2015 would be either Pucked or Pucked Up by Helena Hunting. Now I'm not quite sure, because I might have enjoyed The Deal even more. I guess those three books have to share the top spot.
I really loved it and that's a sad thing to say if you consider that I originally never intended to read it. BUT I loved Elle Kennedy's After Hours series and Amazon kept recommending The Deal over and over again to me – which is usually quite annoying, but because of it I saw that The Deal was on sale and I was like: okay, whatever. I'm going to buy it. That's some long sentence 😉
Anyway… The Deal had so many feels and I loved Wellsy… er, Hannah. She experienced something really bad in her past and she makes the best out of it. She was a really strong character and I love her use of sarcasm.
Then there is Garrett. I totally and utterly fell in love with him. At first I was quite annoyed by his attitude, but it grew on me. He is a really good guy – and he plays hockey, big plus point 😉
Garrett and Hannah together… soooo freaking hilarious. They had the weirdest conversations ever and they made me laugh so often. Did you know that I like stories where enemies become friends and then lovers? I really do and this is exactly this kind of story, though Hannah and Garrett weren't really enemies per se. They just couldn't stand each other.
The bickering! So good! I send a friend of mine so many screenshots of this book and she was all like: Wth are you reading? Those characters are weird. And I was like: No, they're not , they are adorable and funny and you have to read it once the translation gets out (June 2016!!).
One reason why I also loved The Deal… it got me out of my reading and blogging slump and I need to read The Mistake (book #2) immediately after christmas. Or on christmas. Or now. I really don't care 😉
Bye, guys!
Rating: 5 stars