~ Kill Without Mercy by Alexandra Ivy ~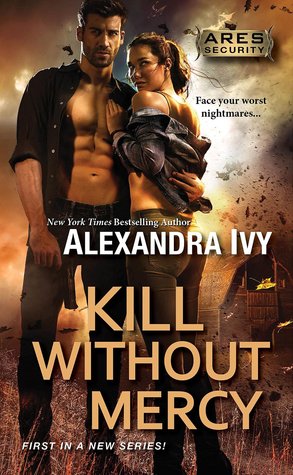 (ARES Security #1)
Genre: Contemporary, New Adult
Date of Publication: December 29th 2015 by Zebra
Source: NetGalley
Synopsis:

From the hellhole of a Taliban prison to sweet freedom, five brave military heroes have made it home—and they're ready to take on the civilian missions no one else can. Individually they're intimidating. Together they're invincible. They're the men of ARES Security.

Rafe Vargas is only in Newton, Iowa, to clear out his late grandfather's small house. As the covert ops specialist for ARES Security, he's eager to get back to his new life in Texas. But when he crosses paths with Annie White, a haunted beauty with skeletons in her closet, he can't just walk away—not when she's clearly in danger…

There's a mysterious serial killer on the loose with a link to Annie's dark past. And the closer he gets, the deeper Rafe's instinct to protect kicks in. But even with his considerable skill, Annie's courage, and his ARES buddies behind him, the slaying won't stop. Now it's only a matter of time before Annie's next—unless they can unravel a history of deadly lies that won't be buried.
~ My Review ~
Kill Without Mercy is the first book of Alexandra Ivy I've read in english and I think I like it more than reading the translations.
Anyway, Kill Without Mercy isn't totally romantic-suspense, but what did I expect, it's a book by Alexandra Ivy. It had to have some kind of mystic element, though that was never really explained and left me questioning it.
That doesn't mean I didn't enjoy this book. I was a fun read and I liked both Rafe and Annie. The story was compelling and though it was pretty clear that the killer all these years back wasn't the real one, it was interesting to find out who the real perp was. I even felt something equally like pity for him and his story, which doesn't happen often for me.
The little side story with Hauk was intriguing and I really want to know how that goes on.
>> "A young, beautiful woman in danger. A handsome ex-soldier who has a savior complex?" He shook his head. "Yeah, that doesn't have disaster written all over it." <<
Kill Without Mercy reminded me of the books by Julie Ann Walker and Cindy Gerard when it comes to the heroes. They bicker and argue, but when it is required, they have each others back, because they are family without the blood ties. I want them all to have their own HEA.
All in all, I really liked this book and can't wait to be able to get my hands on the next one.
Rating: 4 stars