~ The Gatekeeper's Son by C.R. Fladmark ~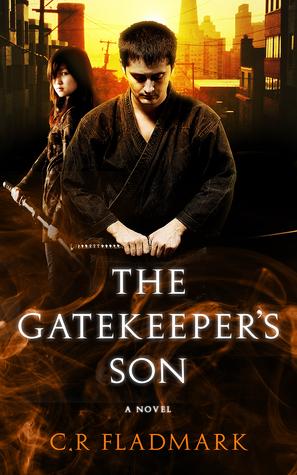 (The Gatekeeper's Son #1)
Genre: Young Adult
Date of Publication: October 1st 2014 by The Shokunin Publishing Company
Source: NetGalley
Synopsis:

Junya's grandfather is a billionaire who keeps the secret to his success hidden in a heavily guarded safe.
His mother is a martial artist who wields a razor-sharp katana—and seems to read his mind.
And a mysterious girl in a Japanese school uniform can knock him over—literally—with just a look.
What do they know that he doesn't?
Junya's life takes a dangerous turn on his sixteenth birthday, when someone sets out to destroy not only the family's business empire—the one that he's set to inherit—but Junya himself. He's fighting for his life, and doesn't know who to trust.
What has his family been keeping from him?
Junya's journey takes him from the narrow streets of San Francisco to Japan, and through hidden portals to the top of the ancient Japanese Izumo Shinto shrine, to places where death and violence are a way of life. And in a mystical world he's never imagined, he finds his true destiny.
~ My Review ~
I got this book back in my beginnings of NetGalley. I liked the synopsis, so I requested it… or was it a "read now"-book? I honestly don't remember. I only remember that I tried reading it back then and had to stop after 5%, because I didn't like the writing and the whole beginning was absurd.
Now I decided to read it again for the End Of The Year 2015 Read-A-Thon and I had the same problem again. I just can't get over 5%, even though I always try to give a book the chance to change my mind in the first 20%.
I just can't make myself read on, so I decided to quit once and for all. I won't try reading this book a third time. It's over.
Because I only read 5%, I can't really voice my opinion about it, so this review will stay without a rating. I just can say that the book and me, we didn't work out. Maybe if the story started off differently… sadly, it didn't.
Rating: DNF