~ All parts of this book were provided by NetGalley in exchange for my honest opinion ~
All covers are linked to Goodreads
Synopsis of Part 1:

Money Can't Buy Love…
Ella Cruise doesn't like to be touched. A survivor of childhood abuse, she craves security in all aspects of her life: fulfilling work at the nonprofit she runs, more than enough money to live comfortably, and a good friend and confidant. But none of it can ease her longing for intimacy, even if just for a night. When she meets a gorgeous bartender who moonlights as a male prostitute, a bold idea begins to take shape…

But It Can Buy a Night of Passion —or Thirty…
Sean Lachlan is stunned by the cool beauty's offer: 30 nights of no-strings sex in exchange for all the money he'd need to start over. The deal seems too good to be true, especially since his desire for her is no act, but Sean finds he can't turn her down. Before they know it, Sean and Ella realize they're in deep, their defenses crumbling. Will thirty nights with a dirty boy be enough after all, or will love lead Ella and Sean back to the negotiating table?
~ Review: Part 1 ~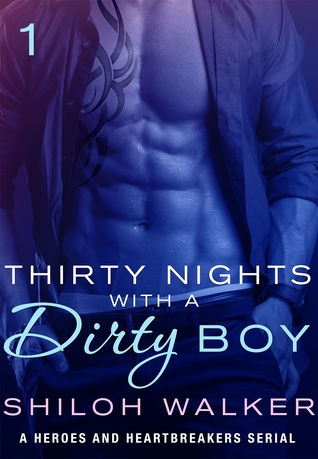 Books by Shiloh Walker are a hit or a miss with me. Some I like, some I don't. This one I think I do like, though Part 1 was quite short and over after not even an hour. I need a few chapters more to fully figure out if it this can be more than a 3 star book, but so far it's looking good.
Sean is a nice guy and really observant. He tries not to upset Ella and make this as easy for her as possible. Ella on the other hand is broken and she knows she is broken, but she is trying to fix herself. I liked that the book is told from her POV. Also this book is pretty easy to read. I'm going to pick up Part Two now.
Rating: 3 stars
~ Review: Part 2 ~
Oh boy. That last sentence did me in. This is exactly why I should have waited till I get my hands on Part 3. I hate cliffhangers.
Anyway, Part Two was better than Part One and I can now say without any doubt, that I like this book.
Ella shows a different, more dominant side of her in Part Two and we get to know a little more of Sean's background.
I can't wait to see how Part Three will turn out.
Rating: 3.75 stars
~ Review: Part Three ~

I can't really say much about part three without spoilering everything and ruining this book for you guys. Want I can say though is that we finally get both, Sean's and Ella's background story. Also Ella finally grows into her role of a strong woman and Sean's sees what mistakes he made with Ella in the last book.
The twist in the end wasn't really surprising but I still liked it.
All in all this complete book was fun and it got better with every part. One warning though: Don't start the first part if you don't have the other two on hand. You will want to binge-read the book in one sitting. Trust me, the writing style hold me quite captive.
Rating: 4 stars