~ Kiss Kill Love Him Still by Jamie Blair & Dawn Rae Miller ~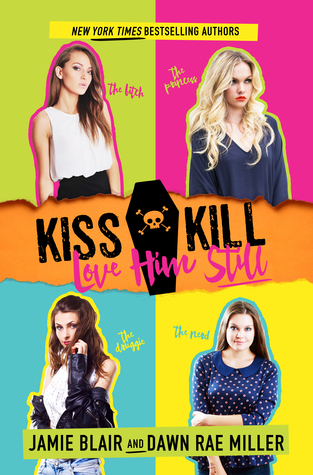 Genre: Young Adult
Date of Publication: November 10th 2015
Source: NetGalley
Synopsis:

Jackson Landis kept secrets. It's how he got girls into bed, the grades he wanted, and a reputation for being the life of the party.

But now he's dead, and no one knows how or why. Especially not the four girls whose secrets he protected. Secrets so scandalous they could cause each girl to lose something valuable. Secrets so dark, someone may have killed for them.

The four girls – a campus drug dealer, an overweight bookworm, a closeted lesbian, and a spoiled princess have one thing in common – they're terrified the things Jackson knew may not have died with him. As Reggie, Haddie, Val, and Livie try to piece together her own role in Jackson's death, each girl realizes Jackson had some not-so-pretty skeletons of his own.

Which makes a girl wonder, who really wanted Jackson Landis dead?
~ My Review ~
Unlikeable characters, a weird story and a jerk of a dead guy will you get, should you decide to pick up this book.
The synopsis of this book sounded so good, sadly the book was not.
I didn't care for the characters, not even one of them! I don't even remember all the names of the girls and I just finished the book half an hour ago. The only name I remember is Livie, because she was annoying, a diva and crazy.
The dead guy, Jackson, or Jax… I don't really see what they all saw in him. He was a manipulative jerk, who was two-timing with a lot of girls. I really couldn't care less about his death and persona.
This whole mystery around his murder was quite boring and I skimmed a lot of pages, just to figure out if I was right with my suspicions. I think I am.
The only good thing about this book is that the four girls finally made a deal in the end to find out together who the murderer is.
I just hope for everyone that actually enjoyed this book that the series won't turn out to be a dozen or more books long. Yes, I'm looking at you PLL books.
Rating: 2 stars