~ The Dirt On Ninth Grave by Darynda Jones ~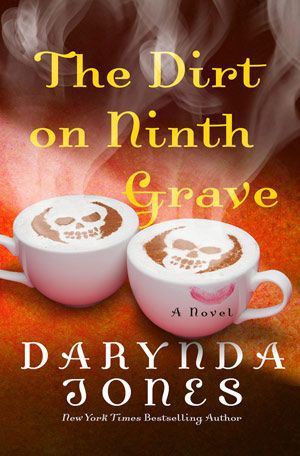 (Charley Davidson #9)
Genre: Urban, Fantasy
Date of Publication: January 12th 2016 by St. Martin's Press
Source: NetGalley
Synopsis:

In a small village in New York lives Jane Doe, a girl with no memory of who she is or where she came from. So when she is working at a diner and slowly begins to realize she can see dead people, she's more than a little taken aback. Stranger still are the people entering her life. They seem to know things about her. Things they hide with lies and half-truths. Soon, she senses something far darker. A force that wants to cause her harm, she is sure of it. Her saving grace comes in the form of a new friend she feels she can confide in and the fry cook, a devastatingly handsome man whose smile is breathtaking and touch is scalding. He stays close, and she almost feels safe with him around.

But no one can outrun their past, and the more lies that swirl around her—even from her new and trusted friends—the more disoriented she becomes, until she is confronted by a man who claims to have been sent to kill her. Sent by the darkest force in the universe. A force that absolutely will not stop until she is dead. Thankfully, she has a Rottweiler. But that doesn't help in her quest to find her identity and recover what she's lost. That will take all her courage and a touch of the power she feels flowing like electricity through her veins. She almost feels sorry for him. The devil in blue jeans. The disarming fry cook who lies with every breath he takes. She will get to the bottom of what he knows if it kills her. Or him. Either way.
~ My Review ~
To be quite honest, I liked this book, but it totally felt like a filler book for me. The first 80% did exactly nothing for the overall story arc.
The whole thing with Charley loosing her memories and becoming Janey was uncalled for and made me so sad, because I read about Charley's adventures without her really being Charley. She had to rediscover her abilities again and it was just so painful to watch her being someone entirely different. Thankfully she didn't loose her snark though.
Also The Dirt On Ninth Grave was a huge, HUGE step back in all of Charley's relationship, because…well, Janey just didn't remember anyone and so they all had to start back at square one. And I was so happy how far Charley's and Reyes's relationship got over the last few books, only to be destroyed by a little amnesia. It felt like book one all over again. 😦
I was so happy about the last 20% of the book though. Finally something happened that had to do with the story arc and (no spoiler here, since we knew that she would get them back) Charley finally gets her memories back. The way she got them back was so heartbreaking. And so beautiful at the same time. Brilliant idea, Darynda Jones!
Charley's reunite with her friends was lovely, too. Just like I hoped it would be.
Though I loved those 20% of the book, it still doesn't make me see the reason for the rest of the book. Don't get me wrong, I was hooked to the pages and I can't wait to read the next book in the series. I just don't see the need for this book story-wise.
Rating: 4 stars