~ The Score by Elle Kennedy ~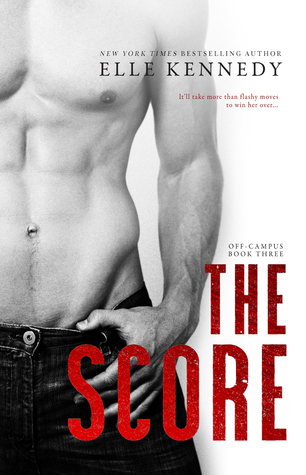 (Off-Campus #3)
Genre: Romance, New Adult
Date of Publication: January 11th 2016 by Elle Kennedy
Source: Author
Synopsis:

He knows how to score, on and off the ice

Allie Hayes is in crisis mode. With graduation looming, she still doesn't have the first clue about what she's going to do after college. To make matters worse, she's nursing a broken heart thanks to the end of her longtime relationship. Wild rebound sex is definitely not the solution to her problems, but gorgeous hockey star Dean Di-Laurentis is impossible to resist. Just once, though, because even if her future is uncertain, it sure as heck won't include the king of one-night stands.

It'll take more than flashy moves to win her over

Dean always gets what he wants. Girls, grades, girls, recognition, girls…he's a ladies man, all right, and he's yet to meet a woman who's immune to his charms. Until Allie. For one night, the feisty blonde rocked his entire world—and now she wants to be friends? Nope. It's not over until he says it's over. Dean is in full-on pursuit, but when life-rocking changes strike, he starts to wonder if maybe it's time to stop focusing on scoring…and shoot for love.
~ My Review ~
Dear Elle Kennedy,
how could you be so mean to us? You had to insert a cliffhanger at the end, didn't you? It probably gives you this not nice satisfaction of doing this to us. How dare you! I need The Goal. NOW. IMMEDIATELY! Please? With a cherry on top?
I loved The Deal, I loved The Mistake and I loved The Score. How is this even possible?! I think Elle Kennedy used some kind of magic on me, so that I would fall in love with the Off-Campus series.
Her heroines are always so realistic and fun and smart and cute and gorgeous and… *add positive adjective of your choice*. I loved Allie, she just broke up for the millionth time with her jerk of an ex and finally decides to grow a backbone and say "to hell with Sean, I'm going find a better HEA" and she did – in Dean. I liked her from the beginning, she is just my type of person 🙂
Truth be told, I wasn't a big fan of Dean in the previous two books and even in the beginning of The Score I was wary of him, but there was this one scene that totally got me on board with him. He's fun, listens to Allie and is so incredible addicted to the french soap opera Allie made him watch – and he doesn't even understand a word they are saying. I kinda wish this soap opera was real, because I want to watch it. It sounds like my kind of drama.
And these two together. So adorable. I really like them. The little twist near the end was really mean, I liked that guy and than the ending. My poor heart. Allie and Dean still get their HEA, so don't worry 😉
If you think about giving these books a chance, you can start with The Score, but I would advice you to start with The Deal to get the full experience. You can thank me later 😉
Rating: 4,75 stars