~ Dark Alpha's Embrace by Donna Grant ~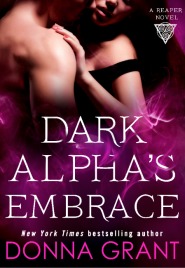 (Reaper #2)
Genre: Paranormal, Romance
Date of Publication: February 16th 2016 by Swerve
Source: NetGalley
Synopsis:

An exclusive new series from New York Times bestselling author Donna Grant!

There's no escaping a Reaper. I'm an elite assassin, part of a brotherhood that only answers to Death. And when Death says your time is up, I'm coming for you…

I'm a warrior. My unbreakable determination, my backbone of steel define me. As a Reaper who does Death's bidding, weakness is a word I don't understand. Until a stunning librarian stirs emotions deep within me I've never felt before. Her soft curves blunt the sharp edges of my soul, crushing my defenses – yet make me stronger. But underneath those wide eyes and fierce femininity, she has a weapon, one she won't hesitate to use. And when the Dark begin their deadly descent, we'll need each other's love and protection…or risk fracturing apart.
~ My Review ~
Dark Alpha's Embrace is the second book in the Reaper series and tells the story of Kyran, a Dark fae, and River, a librarian and fae descandant.
Originally I hoped this book would be about Eoghan, because I wanted him to get his story, but I am glad about how thing turned out. I wasn't disappointed by Kyran's story.
I liked both, him and River. Kyran, because he was one of the bad guys who decided to switch sides and River, because she kicks ass and she loved books. Their romance was sweet.
The story arc resolving around Bran continues and I can't wait to see how it goes on. Also I really want to see more of Cael and Erith aka Death, they would make such a cute couple.
One thing I don't really like about the books are the covers though. I can't really say why, I just don't like them.
Dark Alpha's Embrace is a quick, entertaining read and can – at least in my opinion – be read as a standalone.
Rating: 3,5 stars