~ Pull by Anne Riley ~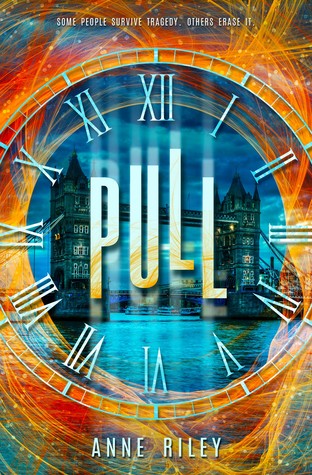 (Stand-Alone)
Genre: Paranormal, Romance
Date of Publication: February 2nd 2016 by Spencer Hill Press
Source: NetGalley
Synopsis:

Rosie Clayton witnesses a mugging on her first night in London—and then the scene rewinds itself.

She finds herself standing in the same place again, with the mugging happening just like before, except this time a stranger steps in and stops it. There's no way the same incident can have two outcomes. Rosie thinks she's losing her mind, until just a few days later, the stranger saves her.

The stranger, Albert, and his band of misfit crime-fighters, have the special ability to Pull, which allows them to rewind just enough time to undo a recent event. Someone is hunting Albert and his crew– and now that Rosie's been seen with them, she's a target too. Rosie is left with no choice but to trust Albert to keep her safe.

As Rosie learns more about this unbelievable ability and the people – if you can call them that – who want them dead, she discovers that the group's desire for her blood might be more than mere coincidence. Each step into this magical side of London introduces Rosie to a family history that she never knew existed, and dangerous forces that could unravel her world in an instant.

Her family may be the reason they're all being hunted—and she may be the only one who can figure out how to save them. Sure, between the lot of them, they have a few shots to get it right. The thing about Pulling, though, is you have to be alive to do it.
~ My Review ~
When I first saw this book I wasn't convinced. The synopsis sounded promising, but I read to many bad books about time traveling and time-manipulating in the last few month.
I still requested it on NetGalley though.
And I have to say, I don't regret it. It took some pages to get used to the story, but Rosie's style of narrating was really catchy and in just a few pages I was sucked in.
I really liked our two main characters, Rosie and Albert – though I really don't like the name Albert. I always have to think about an old man and not a hot, young teen.
Anyway, moving on.
Their romance was definitely not of the insta-love-type. THANK YOU, ANNE RILEY! It was quite a slow-burner and they were really cute.
When it comes to the side characters, I'm not so sure. I liked Albert's friend and sister, but I wasn't really a friend of Rosie's family. Especially her brother. That changed later, but for most of the book I wanted to smack him on the head with my Kindle for being so mean to Rosie.
The story overall was fun – sometimes a bit slow, but still fun. Also the humour was quite good.
Should Anne Riley ever decide to write a sequel to Pull – because let's be honest, it deserves one – I would love to read it!
Rating: 4 stars