1. Tell us something about your latest book. Is it your debut? What genre does it belong to? When does it release?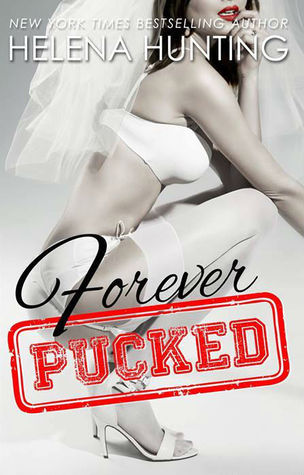 Forever Pucked is the 4th book in The Pucked Series. It's a return to Alex and Violet—the couple who started the series and they're about to embark on the road to marriage, which we all know isn't always easy. The Pucked Series is a sports romantic comedy with a hockey slant—my Canadianness approves of this sport. 😀
2. Is your book part of a series or can it be read as a stand-alone?
Forever Pucked (Book #4) is best read AFTER reading Pucked (book #1 standalone). Pucked Up (Book #2, standalone) and Pucked Over (Book #3, standalone) don't need to be read prior to Forever Pucked, but they're both lots of fun, so there's that to consider. Is that clear as mud?
3. Which character of your book was the hardest to write?
I don't know that either of them were particularly difficult. I think there were scenes that were maybe a bit challenging to flesh out. I typically write in dual POV which allows me flip between the character who has the most to say at any given time.
4. Any writing goals for 2016?
Definitely. I have more plans for The Pucked Series. I'm also working on an angsty contemporary romance and another romantic comedy unrelated to The Pucked Series, so lots happening there!
5. If you're not writing, what do you love to do?
Crafts I suppose. We make a lot of crafts up in the Hunting house. Spending time with my family is always awesome. And sleep, I miss that sometimes.
6. Did anyone inspire you to start writing or did you always knew you just had to write?
I wrote stories as soon as I could put the pencil to the paper, so I've always loved to write. I studied English in university with no real idea as to what the heck a degree was going to get me, all I knew is that I loved it. I don't think I read more than a magazine article after four years of reading literary fiction in mass quantities. Through my twenties it was more of just a hobby. I'd start stories but never finish them. After I had my daughter I started to write again, and that's when it changed for me and became the dream I wanted to pursue. Debra Anastasia is the one who really encouraged me to pursue this as a career. She's an incredible author and a wonderful friend.
7. Any advice/tips for newbies?
Edit like your life depends on it. Join writing groups and have a solid base of friends and professional alliances in the industry. Network, go to conferences, and most of all, keep writing and seeking critical feedback so you can continue to grow in this incredibly fast paced, ever changing industry.
8. Are you already writing a new book? Can you tell us a little bit about it?
Oh yeah. I have three different projects on the go right now. I have to prioritize them according to level of importance/pressingness of project completion. This makes me sound incredibly organized. I'm not. I'm currently working on a romantic comedy that's not related to The Pucked Series. I'm excited to do something a little different.
9. A word that you use way too often? (Mine are "quite" and "probably")
Just, already, and all profanity are commonly overused words for me. I know what mine are, so I often have a running list going in the comments in my docs for my editor.
10. Last but not least: What's your favourite type of candy, if you don't mind me asking?
I love maple sugar candies. They are so ridiculously delicious. I also love straight up chocolate.
Author Bio:
NYT and USA Today bestselling author of The PUCKED Series, Helena Hunting lives on the outskirts of Toronto with her incredibly tolerant family and two moderately intolerant cats. She's writes contemporary romance ranging from new adult angst to romantic sports comedy. She likes to play Scrabble in her spare but her husband doesn't like how competitive she is about it so she resorts to Candy Crush instead.
Follow Helena Hunting:
Website | Amazon | Twitter | Facebook | Pinterest | Instagram | Goodreads | NEWSLETTER | PA email contact: helenahuntingpa@gmail.com