~ Red Queen by Victoria Aveyard ~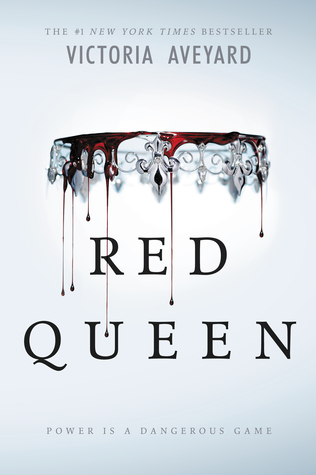 (Red Queen #1)
Genre: Dystopian, YA, Fiction
Date of Publication: February 10th 2015 by HarperTeen
Source: Purchased
Synopsis:

This is a world divided by blood – red or silver.

The Reds are commoners, ruled by a Silver elite in possession of god-like superpowers. And to Mare Barrow, a seventeen-year-old Red girl from the poverty-stricken Stilts, it seems like nothing will ever change.

That is, until she finds herself working in the Silver Palace. Here, surrounded by the people she hates the most, Mare discovers that, despite her red blood, she possesses a deadly power of her own. One that threatens to destroy the balance of power.

Fearful of Mare's potential, the Silvers hide her in plain view, declaring her a long-lost Silver princess, now engaged to a Silver prince. Despite knowing that one misstep would mean her death, Mare works silently to help the Red Guard, a militant resistance group, and bring down the Silver regime.

But this is a world of betrayal and lies, and Mare has entered a dangerous dance – Reds against Silvers, prince against prince, and Mare against her own heart …
~ My Review ~
When I started Red Queen, I was prepared to hate it. That is the basic reason why it took me till now to read it. I had it on my shelf since June 2015 (I think). I was pretty sceptical of it, because I am all over overhyped books. Most of them are a huge disappointment for me. Yes, I'm looking at you, Hunger Games. And multiple other hyped books I could recall right now.
So colour me surprised, but I did indeed like Red Queen. It won't be my all-time favourite, but it wasn't bad and I will definitely read Glass Sword.
In the beginning of the book, I pretty much was bored out of my freaking mind, but after roughly 100 pages that got better and by page 200 I was hooked. I just need to know how it would get on and if my suspicion was right. It was.
The whole story was pretty intriguing. Two things bothered me though.
First: Mare. I liked her, I really did, but how can one person be so naive and stupid? I called the thing with Maven from pretty much the beginning. I liked him – at first. Then I started to dislike him, because he was too nice. You know what I mean? But Maven has nothing to do with my list, so moving on.
Second: The stupid "triangle love story". Just one word: WHY? One thing regarding the triangle I loved though, was one thing Mare said. I always wanted Bella and Katniss to say this, but Mare finally said it! Yay!
"I choose no one." ~ page 353, Mare to Cal and Maven
You know the one good thing about waiting till now to read Red Queen? Sword Glass comes out in about 2 weeks. Meaning all the other people that loved/liked Red Queen had to wait over a year, while I only have to wait 2 weeks. HAHAHAHAHA #sorrynotsorry
Rating: 4 stars