~ Bright Blaze Of Magic by Jennifer Estep ~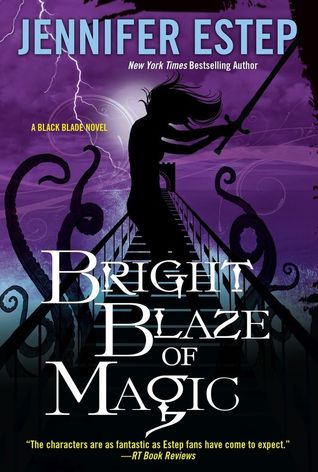 (Black Blade #3)
Genre: YA, Urban Fantasy
Date of Publication: April 26th 2016 by Kensington
Source: NetGalley
Synopsis:

Bad Things Always Come In Threes…

As a thief, I'm good at three things: hiding in the shadows, getting in and out unseen, and uncovering secrets. I put these skills to work for the Sinclair Family, one of the magical mobs that run the tourist town of Cloudburst Falls.

Everyone knows Victor Draconi wants to take over all the other Families–and kill every last Sinclair. What they don't know is that I'm on to him, and no way will I let the man who murdered my mom get away with hurting all the other people I care about. Especially when I've got places to break into, stuff to steal, and Devon Sinclair fighting right by my side…
~ My Review ~
Bright Blaze Of Magic was a great ending to a great series.
It summed up all the open questions of the previous books and again I loved Lila. I will miss her, Devon and all the other secondary characters greatly.
I can't really say much without spoiling all, just let me say that the end fight was awesome and I kind of want the lochness monster as my pet. It was so cute.
I can only recommend this series to you all. If you liked Jennifer Estep's Mythos Academy series I think you will like the Black Blade series as well and if I am quiet honest I liked Lila from the very beginning, while I needed two books to like Gwen.
Rating: 4,5 stars