~ Because I Love You by Tori Rigby ~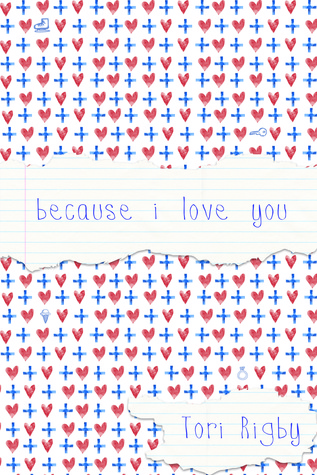 (Stand-Alone)
Genre: Fiction, Young Adult, Romance
Date of Publication: May 17th 2016 by Blaze Publishing, LLC
Source: Author & YA Bound Books Tours
Synopsis:

Eight weeks after sixteen-year-old Andie Hamilton gives her virginity to her best friend, "the stick" says she's pregnant.

Her friends treat her like she's carrying the plague, her classmates torture and ridicule her, and the boy she thought loved her doesn't even care. Afraid to experience the next seven months alone, she turns to her ex-boyfriend, Neil Donaghue, a dark-haired, blue-eyed player. With him, she finds comfort and the support she desperately needs to make the hardest decision of her life: whether or not to keep the baby.

Then a tragic accident leads Andie to discover Neil's keeping a secret that could dramatically alter their lives, and she's forced to make a choice. But after hearing her son's heartbeat for the first time, she doesn't know how she'll ever be able to let go.
~ My Review ~
~ Book provided by Author & YA Bound Books Tours in exchange for my honest opinion
I have to admit I'm not sure I ever read a book about teen pregnancy, but I wanted to change my reading behaviour a little bit and the blurb sounded interesting, so I requested this book.
I really liked this book till about 60% and then – I don't know why – I just lost the desire to read this, but I forced myself to continue reading it and I do not regret it. In fact I'm glad I did. I enjoy the last few chapters so much in a heartbroken way.
Throughout this book I was shocked, laughed so much, cried and just wanted to give Andie a long hug for all she had to endure.
Andie was such a strong girl. I don't know what I would have done in her shoes, but she chose the best possible outcome. And Neil. I just had to love him. He made me swoon and laugh so much.
Then there were all the side characters, Jill, Andie's mom, Jill's dad. They were all pretty awesome. And I loved that the weren't all the same, no, they had character.
If you choose to give this one a try, be prepared and have some tissues in your reach. You will need them.
Rating: 4,25 stars