~~ Dream A Little Dream by Kerstin Gier ~~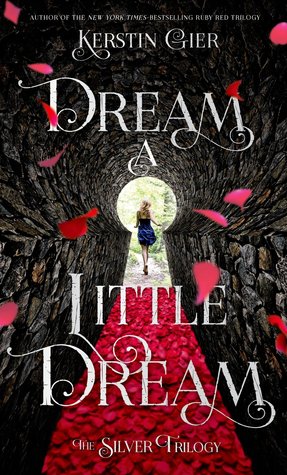 Genre: YA, Fantasy, Mystery
Pub Date: April 14th, 2015
Series: The Silver Trilogy #1
Synopsis: Mysterious doors with lizard-head knobs. Talking stone statues. A crazy girl with a hatchet. Yep, Liv's dreams have been pretty weird lately. Especially this one where she's in a graveyard at night, watching four boys perform dark magic rituals.

The really weird thing is that Liv recognizes the boys in her dream. They're classmates from her new school in London, the school where's she's starting over because her mom has moved them to a new country (again). But they seem to know things about her in real life that they couldn't possibly know, which is mystifying. Then again, Liv could never resist a good mystery. . . .
~~ My Review ~~
I've got the german audiobook of this one from my local library a while back, because I liked the Ruby Trilogy and I've always wanted to read Silber or Dream A Little Dream, whatever you may call it.
Throughout this review I'm going to call it Silber, because that is just shorter and I'm lazy. LOL.
Also I'm going to apologized if I spelled any name wrong, I have no idea how some of them are written, because I've only listened to this.
I liked Silber, it was funny and some parts were even creepy. It also had some romance in it. So my favourite kind of YA book.
Olivia, the main character, or as she wants to be called "Liv", is a 15 year old, quite sarcastic teen, who is used to moving around a lot. She has a little sister named Mia and a nanny named Lottie, who's german and really adorable.
Her mother met a new guy named Ernest, so the whole family including the dog, moved to London. Then her mother announced "were are moving in with Ernest and his family" and a new life for Liv began.
I really, really liked Liv. I love her thoughts and her use of sarcasm, her "I will never be like one of those love-strucked teenagers", only to become on of them, too, her relationship with her sister (so cute!) and the fact that she is not dumb.
I liked all of the characters, especially Florence, Liv's probably soon-to-be stepsister, who was quite annoying, but send me into a laughing fit so often.
Even though till here it sounded like I would give this book 5 stars, I won't, because there were some things bugging me. For example the fact that their school had a Secrecy AKA Gossip Girl. Though I liked what Secrecy wrote about and I really want to know who she/he is, I kinda felt like this was copied.
Then there was the fact that the good first quarter of the book was quite boring. Nothing interesting happened. I think the only thing that kept me going was the narrator, because she did a beautiful job and I can totally see why she got a prize for this audiobook. Also I think I wouldn't have liked this as much if not for her.
Also I'm not sure if I liked the beginning romantical relationship between Liv and one of the guys, whose name I won't name, because read this story on your own ;). I have this bad feeling this could develop into a triangle between Liv, her stepbrother Grayson and the other guy (please, let me be wrong).
The ending was quite intense. I figured out this would happen a little bit before the actual scene, but still a felicitous twist.
Also it's a good thing I already have the second audiobook, so I can go on listening to this right away.
Rating: 4 stars ✶ ✶ ✶ ✶