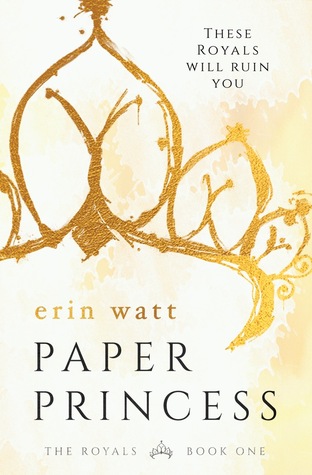 Paper Princess
(The Royals #1)
by Erin Watt
ebook, 370 pages
Publication Date: April 26th 2016
ASIN: B01DT9ZWNI
From strip clubs and truck stops to southern coast mansions and prep schools, one girl tries to stay true to herself.

These Royals will ruin you…

Ella Harper is a survivor—a pragmatic optimist. She's spent her whole life moving from town to town with her flighty mother, struggling to make ends meet and believing that someday she'll climb out of the gutter. After her mother's death, Ella is truly alone.

Until Callum Royal appears, plucking Ella out of poverty and tossing her into his posh mansion among his five sons who all hate her. Each Royal boy is more magnetic than the last, but none as captivating as Reed Royal, the boy who is determined to send her back to the slums she came from.

Reed doesn't want her. He says she doesn't belong with the Royals.

He might be right.

Wealth. Excess. Deception. It's like nothing Ella has ever experienced, and if she's going to survive her time in the Royal palace, she'll need to learn to issue her own Royal decrees.
Let me start this review off with saying: I freaking love Ella! She knows that life is hard, is sassy, uses a good dose of sarcasm and doesn't back down when some jerk *cough* Reed *cough* tries to command her life. I adore her and her strength.
Now Reed… Reed is another story. Him I wanted to hit so hard with a shovel that he could only see stars for weeks. I hope he fixes the mess he made in the next book. I still love him though, but don't let him know that. He's doesn't need me to stroke his ego anymore 😉
This whole Royal family is crazy, but I kind of ended up liking them all. They were funny and after they warmed up to Ella they were a really good family. Love the five brothers and can't wait to read more about them.
The writing style of Paper Princess was really good. In fact, I read this book in on sitting, because I couldn't stop. I was hooked to the pages. Also that cover! It's really beautiful, even though it's kind of plain (and I mean that in a good way). I love it.
Now if July could hurry up and be here. I think I can't wait any longer for the next one after that mean cliffhanger. Give me more!
Rating: 4,5 stars
The #1 New York Times Bestselling Author, loving brainchild of Jen Frederick & Elle Kennedy.