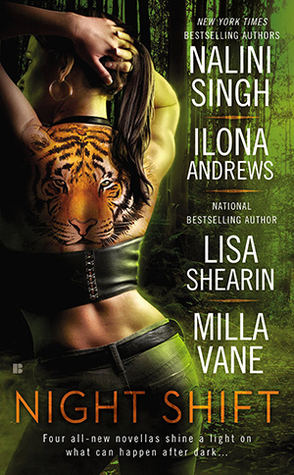 Maybe you noticed but I'm a huge fan of short story collection. You get to know a lot of new, different authors. Some you might like and others you don't.
With Night Shift I knew from the start that I would get at least 2 stories that I would love.

Nalini Singh: Secrets At Midnight ~ 5 stars:
I don't know if I have already mentioned this, but her last two books weren't that good to me. I still really liked them, but I did not LOVE them. With Secrets At Midnight Nalini convinced me that she can still make me love her books. I loved Bastian since his first appearance but I also fell immediately in love with Kirby. I love her character and her wit, also I love in what she change 😉 that's kinda cute. They were really adorable together.
Ilona Andrews – Magic Steals ~ 5 stars
I thought that Secrets at Midnight would be my favourite, but I was wrong. Magic Steals is the best one out of the four. I never noticed till now, but Dali is kinda awesome and Jim is just adorable. The interaction between those two is so funny to read (Dali hid Jim in a closet). I laughed out loud a lot of times.
Lisa Shearin: Lucky Charms ~ 3,5 stars
This was not as good as Secrets at Midnight or Magic Steals, but I was still entertained. I liked the writing style, but I was kind of disappointed by the heroine. She was this stereotype of girl / woman. I'm not sure if I will try the first installment in this series.

Milla Vane: The Beast of Blackmoor ~ Did Not Read
I have no opinion for this, because I haven't read one page.